The Best Value Resorts on Koh Chang
Thanks to my friend Sanjay who has written this piece. It's more aimed at Indian visitors to Koh Chang, as that's the market he specialises in. But I agree that the resorts here all offer decent value for money – regardless of your nationality.
Here's a selection of 3 star resorts that offer value for money accommodation and would be ideal for a family or couple. There are plenty more I could have mentioned, but I just wanted a handful, located on different beaches that fit the bill. All are actually on the beach, except for Garden Resort, Kai Bae, which is included as a great place to stay for people who want a good standard of accommodation but also with a friendly, knowledgeable Western owner.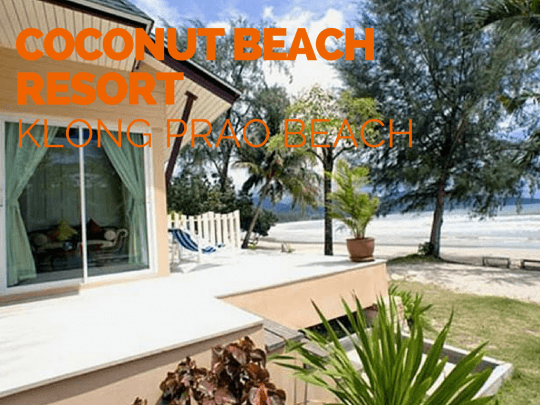 Unlike most resorts on the island, the Coconut Beach resort takes the rather unusual approach of catering to a wide array of customers, offering both private villas and beautiful rooms in a main hotel building. The entire resort has been designed to incorporate traditional Thai style, allowing to have a truly authentic experience during your visit to Koh Chang.
With crisp, white sand beaches and a clear, refreshing sea, all set against a stunning jungle covered mountain and facing out onto a picturesque ocean, the Coconut Beach Resort is sure to deliver satisfaction to any traveller who stays here.
Sate Your Appetite
Breakfast each morning promises a lip-smacking selection of local and international breakfast foods, including rice, omelettes, bread and jam, along with tea, coffee and various fruit juices.
The resort also offers a BBQ option, served up on the beach, where you can enjoy a wide range of freshly caught and cooked seafood. With a sumptuous spread laid on every night, you can feast on a selection of dishes, helping yourself from the generous buffet platters. Take your dish down to the beach, where a number of tables are set out underneath the palm trees, allowing you to take in a spectacular view as you dine on some truly extraordinary food.
Service With A Smile
In order to make your stay as enjoyable as possible, the resort keeps a number of specialists on hand to ensure that your problems can be sorted within around 30 minutes. Most visitors comment on the cleanliness of the resort, and in particular the rooms, along with the expedient service delivered by the maintenance crews when it comes to things such as malfunctioning air conditioning.
The rooms are made up each day and your fresh towels will be arranged in a cute manner, as swans with their heads bowed towards one another. It is the small gestures like this that really show off the professionalism on offer here.
Cosy Rooms
During the high season, you can expect to pay around $80 per night for the most basic room. That being said, each room comes with an American style breakfast as standard, along with air conditioning, a refrigerator, TV and free Wi-Fi meaning that you are guaranteed a great stay regardless of your budget.
You will find that each room has plenty of room, more than enough to stretch out and feel at home in. With most rooms coming equipped with Queen Sized beds as standard, you are guaranteed to enjoy a good night's sleep each night. Extras such as a laundry service can be arranged from your room, meaning that you'll never be more than a few hours away from fresh, clean clothes.
Should you wish to pay for the Superior Bungalow, then beautiful vistas await you, with huge screen doors that look right out across the oceans and a veranda that opens out straight onto the beach.
This is the perfect resort for anyone who wishes to enjoy everything that Koh Chang has to offer, without blowing their savings.
Check Room Rates at Coconut Beach Resort on Booking.com
In addition to its remarkable name, the Cookies Hotel is remarkable in nature, offering visitors the chance to while away the hours on its sunny terraces, enjoy stunning panoramic views and walk along a quiet beachfront.
Located on the prime tourist destination of White Sand Beach, the Cookies Hotel is perfectly positioned to allow you to see the best side of Koh Chang.
Wonderful Relaxed Atmosphere
The large infinity pool lets you swim in tranquillity, watching the ocean scenery play out in front of you. In case that gets too stressful, then the swimming pool comes with its own Jacuzzi, allowing you to simply soak all your troubles away.
A recent addition to the resort is a fantastic new golf course that is sure to make any player happy – with such a tropical surrounding, it is hard to imagine a way that the sport could be improved any further!
Food and Drink Throughout The Day
Breakfast is included in the price of every room so, if you know how you like your eggs in the morning, then be sure to tell that to the breakfast team, who will be more than happy to prepare an egg in any style that you fancy which can be enjoyed alongside a range of delicious continental meats and local foodstuffs.
Though there is no poolside service, drinks can be enjoyed while you relax by the water, with a nice selection of cheap beers on offer, both local and international brands.
Chef Pong and his team of master chefs promise to delight your taste buds as they serve up a whole range of Thai, international and seafood dishes, including some unique Thai fusion flavours unique to their restaurant. Depending on the weather, it is highly likely that many of your evening meals will be served directly on the beach, along with a huge BBQ that is complemented by romantic lighting and decorations that help to complete the atmosphere.
A Peaceful Rest
The rooms are incredibly comfortable, offering plenty of space and natural light. Each room comes with its own self-contained air conditioning, allowing you to set the temperature of your room to what is right for you. Additionally, you also get access to the resort's Wi-Fi, satellite TV, a safe and a refrigerator.
Be sure to book a poolside room if you wish to enjoy views of the ocean as the other rooms are located round the back of the resort. A room during the peak season can go for as little as $60 per night but this does only offer a view of the surrounding hillside which, though beautiful in and of themselves, pales in comparison to the Gulf of Thailand. The prime beachfront rooms go for about $90 per night, so are still incredibly affordable.
The hotel staff are courteous and friendly, making sure that you have everything that you need without becoming intrusive or bothersome. Rooms are cleaned each day, with fresh towels laid out on the bed, along with any laundry that you have asked to be done.
Check Room Rates at Cookies Hotel on Booking.com
Flora I-Talay Resort, Klong Prao beach
This part of the island is commonly regarded as one of the best spots and, with unfettered use of Flora I-Talay's private beach, you will be able to enjoy Klong Prao Beach as much as you want. With virtually immediate access to the beach from your room, Flora I-Talay is a resort that gives you plenty with minimal effort.
Paradise Found
On the beautiful Klong Prao Beach, the waters around are quite shallow, making this the perfect place for anyone looking for somewhere to take a long, romantic walk across the beach. Comfortable bamboo chairs are available to allow you to sit by the sea and simply watch the tide flow in and out.
An open air bar ensures that the good times keep on going late into the night – with a wide range of cocktails and cold beers on offer at cheap prices.
Flavours Abound
If you are a fan of spicy food, you will be pleased to know that Flora I Talay specialises in serving local curries. Packed full of flavours that you are sure to find new and interesting. In order to get the true island experience, be sure to try as many of the seafood dishes as possible since these will have been prepared with freshly caught fish from one of the nearby fishing villages. The fried noodles with crab is a particular speciality of the chef here,
Food served at the restaurant is not only delicious but beautifully presented, with chefs creating ornate patterns on your plate that almost look too good to eat! When combined with the spectacular views offered by the beachside dining area, you're going want to make sure that your eyes are in fact bigger than your belly!
Flora I-Talay's restaurant is so well regarded that it attracts tourists who are staying at different resorts who have found the food their lacking. With big portion sizes and low prices, you are guaranteed to be able to eat your fill.
Comfortable Retreat
Flora I-Talay has a much more homely feel than many of the resorts on the island, with a focus on cosy isolated bungalows that have everything you need. The wood and thatch structures offer a rustic charm that allows the resort to blend in seamlessly with the surrounding wildlife. Rooms are available during the high season for about $70 per night
Inside the rooms, wide open spaces and good positioning of windows give each room a relaxed atmosphere, one where you can breathe easy and sleep in peace. Rooms have complementary Wi-Fi . This is also available in the communal areas of the resort. This can make the resort ideal for people who really need to get away from such things, where an internet free room allows them to finally go to sleep without worrying about emails and uploading your vacation photos while you are still on vacation.
Check Room Rates at Coconut Beach Resort on Booking.com
Siam Beach Resort, Lonely beach
As the name suggests, Koh Chang's Lonely Beach remains a relatively unspoilt location (although the main bar & backpacker area – 10 minutes walk away does get very busy ), making the Siam Beach Resort a beautifully tranquil place to escape from the worries of the world.
Located in the far south west of the island, the resort is rarely frequented by walk-in guests since there is very little else on offer in the vicinity. The beach itself consists of pure, pristine white sand that is gently lapped by a clear, richly coloured ocean.
Beauty All Around
Even if you choose to remain on the resort for the entirety of your stay, you are still going to experience unimaginable wonders. At night, the sky, the sea and the beach come to life with stars, fish and crabs all making an appearance at their respective locations.
The resort staff are wonderfully helpful and can arrange special tours for you. These take in the same sights that larger tour groups take in but without the stress that comes from being stuck with strangers on a jungle trek that lasts for several hours. Everything from scuba diving, swimming with dolphins and exploring the very treetops of the jungle can be done here.
Culinary Sensations
Starting from 7am, the resort serves up a gourmet selection of food. With both Western and Thai dishes on offer, you are spoilt for choice. When you finally manage to decide what you want to eat, then you will have the chance to witness the sun begin its ascent as you dine and see the sea come to life as the fishing boats take to the water.
Immediately after breakfast finishes, the drinks bar opens up on the beach, allowing you to sip an ice cold beverage of your choice beneath the beating sun.
Some of the fishing boats that you've spent the day watching might be responsible for the food currently being cooked on the nightly beachside BBQ that runs from 6pm until 11pm. In addition to the BBQ, a buffet style arrangement of salads, aperitifs and snacks are available to help yourself from. A la carte options can be cooked by request.
Affordable Holiday Accommodation
Remarkably, a room at the Siam Beach Resort can cost as little as $30 per night during the peak season, though these rooms are located further island and have views of the surrounding hills. On average, you can take a room for about $90 per night, which also opens up a whole new range of supplementary bonuses.
All the rooms have been designed with comfort in mind, with the mattresses being replaced on a regular basis to ensure that you sleep on the best possible bed and get a fulfilling night's rest. Air conditioners, refrigerators and televisions all come as standard, to make sure that you always feel perfectly at ease.
The bathrooms also show careful planning, with the toilet being situated away from the shower, meaning that no one is left waiting for someone else to finish in the shower if they need to use the toilet.
Check Room Rates at Siam Beach Resort on Booking.com
Bailian Beach Resort can be found in its own little bay in the South West corner of Koh Chang island. Between two palm trees, you'll see hammocks strung up in an attempt to coax you into falling asleep beneath the leafy shade. It is a resort perfectly suited for the world weary traveller who is in search of a place where they can recharge their batteries before they have to go back and face the world.
Explore A Hidden Side of Koh Chang
This part of the island practices a more responsible form of tourism. One which minimizes the impact of tourists on nature. As a result, this is the sort of area that you are likely to find local craftsmen and artisans selling their wares.
There is a nearby fishing village to the south, where small private fishing trips can be arranged. And just one kilometre to the north, the party hub of Lonely Beach should you wish to check out the local nightlife.
If you decide to go for a swim, then some swimming shoes would be a wise investment since the sea immediately next to the resort is very rocky. If you were looking to swim for long periods of time, then it might be worth using one of the hotels' pools.
Refresh Yourself
The resort's bar serves up a delicious selection of drinks, including fresh fruit juices, coffee, tea and other soft drinks, as well as an impressive selection of Thai and foreign import beers. You may take your drinks onto the beach, as well as beside the pool so be sure to take a large glass as once you get a good look at the ocean view, you're not going to want to move for anything.
When it comes to consuming something more substantial, then the Bailan Beach Restaurant has you covered. American, European and Thai breakfast items can all be served up for, should you wish, followed by a light locally sourced salad for lunch and then barbecued steak on the beach in the evening. The menu options are incredibly varied and are sure to be perfectly adequate to satisfy a number of tastes.
Cute and Comfortable
Should you have spent the day riding the risky hilly roads of Koh Chang on one of the Bailan Beach Resort's own motorcycles, then you are probably going to want somewhere peaceful to settle down at night. The rooms on offer at the resort promise a great night's sleep to all their visitors at incredible prices. For just $60 a night, give or take a few bucks, you can stay in one of their amazing bungalows during the January high season.
Cable TV and refrigerator make it so much easier to enjoy the comforts of home and your own air conditioning unit means that you get to have your room just the way that you like it. Luckily, all of these things come as standard with each room and the only difference in price being dependent on view and the size of your party. The resort also runs a cheap laundry service that will be picked up and dropped off at your room so there is no need to bring ridiculous amounts of clothes with you.
Check Room Rates at Bailan Beach Resort on Booking.com
Garden Resort is as picturesque a resort as one might expect, given its name. This boutique resort contains only 20 rooms and being nestled in with natural sound barriers means that your stay here will pass by in peace and utter tranquillity.
Friendly Staff
The Garden Resort takes a lot of pride in the fact that they have invested a great deal of time and energy into making sure that all of their staff members have been trained to high standards of hospitality. The difference that this has made to many people's stays is immeasurable. With hotel staff being known to do everything from to using their own car to take a guest where they needed to be.
In the interest of keeping their patrons happy, The Garden Resort has made sure to implement an incredibly generous happy hour policy – one that will make you very grateful that your room is so close by!
Amazing Rooms
From the outside, all the rooms have been made to look like traditional huts whilst inside they offer open spaces and a great deal of natural light. The beds in this resort are nice and big and so comfortable that it is a wonder that anyone manages to get out of them.
The bathrooms are similarly spread out, allowing you to see at a glance just how clean the room is. With a beautiful open plan shower, the resort is also suited for people with mobility restrictions, since everything is mostly on the same level.
All the rooms come with a TV, a refrigerator, a safe and even Wi-Fi access at an impressive 100mb/s download speed, meaning that you should never encounter a problem anywhere on the resort. Such is their commitment to helping you stay connected that they actually have two separate internet providers, should one happen to fail at any given moment.
To stay in the resort during the January peak season will cost somewhere around $80 per night. This price includes breakfast, which features a range of high quality food such as Nutella – the purchasing of top brands showing the resort's commitment to providing the best holiday experience. Breakfast is the only meal served at the hotel. Offering homemade bread, cold cuts, imported cheeses, an array of spreads and the ability to have eggs cooked to order in one of 15 ways.
Perfectly Situated
The Garden Resort benefits from being far enough away from the centres of nightlife that they are not affected by the noise. Nor are they often visited by that type of crowd but near enough that you have time to see the areas in the day time before getting out of there before the parties start.
Many trips can be organised through reception during your stay, meaning that you might even find yourself atop an elephant on a whim.
Check Room Rates at Garden Resort on Booking.com
TIP: If you're reading this page then you are obviously the type of person who wants to get the most for their money on the island . . . which is why I made a page about where to get the best exchange rates on Koh Chang.