One of the features that is a big factor in choosing a resort, especially if you either like to swim or just want to vegetate and do nothing for two weeks, is having a good swimming pool.
I'm not really sure what the best pool on Koh Chang is. I don't think there is an outright winner. In addition, people look for different things. Families will want a kid friendly pool, with waterslides and a spacious shallow end. Couples might prefer something a bit more hidden away with fewer brats running around spoiling the peace and quiet. And then you have the minority who actually want a pool to swim in, in which case it needs to be of a decent length.
Having said that, the best pool is . . . Overall, if I have to pick one, I'd say KC Grande Resort wins. Their main lagoon pool is by the beach, has facilities for kids but also plenty large enough for people to swim in it. ( Other resorts with similar, excellent beachfront pools include Sea View Resort, Kai Bae; Paradise Resort & Santhiya Tree Resort, Klong Prao beach and Kacha Resort on White Sand beach. ) And it the beachfront pool is too busy there are three other pools at the resort including a great rooftop pool which is usually deserted.
Their rooftop pool also wins the award for 'Best pool built with disregard to children's safety' – which isn't necessarily a bad thing, as it keeps sensible families away. Everyone likes an infinity edge pool, but some parents may feel that having a four storey drop on the other side of the infinity edge may not make it an ideal place for their young 'uns to run wild.
Best pool with a view . . . Cliff Beach Resort in Kai Bae wins this for me. It's a bit of an uphill trek to get to, which is great at it deters the majority of guests from using it. But make the effort and you get a quiet spot to relax and enjoy the views out to the nearby islands.
Runners up would be Chai Chet Resort pool which has a great view across the length of Klong Prao beach. or Coral Resort, Kai Bae which has cracking views north along the coast of Koh Chang. With an honorable mention to Chivapuri Resort on Klong Kloi beach, which when the weather is clear has views to the islands south of Koh Chang.
Best pool to train for the Olympics in . . . Whilst the Emerald Cove does have a great pool for swimming laps, and is the best bet among the luxury resorts for serious swimmers, it's still no competition for the always deserted 50 metre long pool at Koh Chang Resortel on Pearl beach which comes complete with marked lanes and 1970s style concrete starting blocks.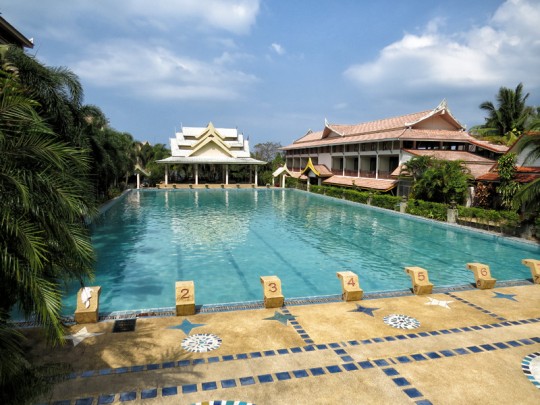 Best pool that I can't take a good photo of . . . The Dewa has a unique pool tiled with dark brown ceramic titles with reflective flecks that make the water sparkle. It's like diving into a mirror. The problem is when I try to take a photo of it it just looks like a pool full of muddy water.
Best pool you haven't seen . . . Koh Chang Tara Resort on the east coast. If you happen to be passing stop for a coffee and take a look inside. The owners of this small resort have made a very tasteful pool with artificial beach area. The new pool at Gajapuri Resort also qualifies as it's just opened and the resort is one of the best on the island. But it's a boring – just a sensible rectangle with no natural shade anywhere.
Best pool built twenty years ago and never modified since . . . It's a tie between the oversize birdbaths at BanPu Resort, White Sand beach and Koh Chang Resort, Klong Prao. A hard fought battle to have the most disappointing pool for guests. BanPu should just edge it, as at least Koh Chang Resort has a freeform pool rather than a dull rectangle. But I'll give it to Koh Chang Resort on the grounds they have plinths poolside one with a large cock (feathered not phallic), another with a ubiquitous elephant and a third with an old Chinese guy smoking an opium pipe. And it takes a special type of architect to come up with that.