Jungle Trekking on Koh Chang
Surprisingly, few people bother making the effort to head into Koh Chang's interior on a trek. But if you need some exercise whilst on holiday jungle trekking is definitely worth doing. Whilst there are no signposted routes, there are guided treks available to suit everyone from families with young children to people wanting a serious test of their stamina.
The majority of visitors get as far as the beach and a snorkelling trip and possibly an elephant ride but that's it as far as activities go. One reason for the lack of trekkers is that it isn't something that you can easily do on your own without a guide. Many people like to go hill walking but here are usually plenty of marked trails in National Parks. Even in Thailand many of the major parks have marked trails which are well signposted and easy to follow. Trekkers can select trails of varying length and difficulty to suit their own requirements.
However, on Koh Chang the National Park staff are more interested in taking 200 Baht off foreign tourists wanting to walk 400 metres to see a waterfall than they are in providing any useful services such as marked trails. There is an argument that having trails will disturb the wildlife, but as there are paved roads through many parks which are home to a far more diverse and interesting range of animals than Koh Chang, this argument falls flat.
Therefore, you'll need a guide if you want to go into the jungle on Koh Chang. Most guides are locals who know the areas and will happily take people up into the jungle when they have free time. However, there are very few licensed tour guides doing trekking work and even fewer who speak enough English and also know enough about the flora and fauna that you will see to be able to actually guide you, rather than you just playing 'Follow the leader' up a hill.
Koh Chang Jungle Trekking Guides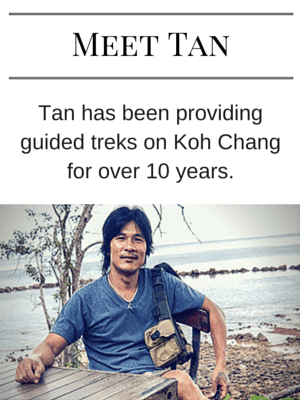 There are a few good trekking guides on Koh Chang, but the one that I recommend is a guy called 'Tan' who runs Tan Trekking. Tan has worked as a licensed tour and trekking guide for over a decade in Koh Chang, Krabi and Chiang Mai. He also spent six years living in Australia, so you won't have any communication problems . . . providing you can speak English or Thai.
If Tan is fully booked, then two other guides on Koh Chang you can contact are 'Jungleman Raht', a Koh Chang native, leads treks into the hills around Kai Bae valley as well as a hike up to Khao Jom mountain above White Sand beach.
Also Toon, another local based in Pearl beach, runs a good website for trekking – KohChangTrekking.info on Koh Chang and offers a variety of treks including the toughest you can do here – the cross island trek and also birdwatching treks for any avid twitchers. Contact them direct via their websites for bookings or more info.
Prices for all the treks include transfer, packed lunch, water, fruit, a small backpack and also mosquito repellent. I always take extra water, as the humidity can sap your strength if you don't keep properly hydrated. As far as footwear goes, then it should be appropriate for hiking in a jungle. So definitely not flip flops or any open toed sandals.
Likewise, no heavy European hiking boots. Comfortable trainers with a good grip or ideally, lightweight walking shoes are the best bet. Also wear socks. As you might find leeches attaching themselves to your ankles if you don't.
Your guide will carry a small pouch of tobacco with him. This isn't to make a roll up to celebrate reaching the end of the trek, it's in case you get bitten by a leech. Once a leech bites you, it injects an anti-coagulant into your blood. This means the blood doesn't stop flowing from the small hole in your skin. The trick to stopping it is to just rub a small amount of tobacco onto the wound.
If you prefer to take a private trek, rather than joining a group, then you will see and learn more. Plus you'll be able to go on routes most groups don't take. The trek which has the best views on Koh Chang is in the southeast of the island, Tan does this once a week and you can also book it privately with Thomas, a Thai guide who runs his own private trips to parts of the island most visitors never see. More info on his Facebook page.
For day treks also bring along, or wear under your clothes, shorts or a swimsuit as you'll stop at a small waterfall on the way for a swim in a cool mountain stream.
Jungle Treks on Koh Chang with Tan
1. Klong Son Trek with optional Elephant Ride
This was the first trekking route mapped out by Tan. You'll head through fruit plantations and up to the top of Khao Chedi, in Klong Son, around 500 metres above sea level. Then have lunch on the top and then descend via a different route to a small river and waterfall where you can cool off and swim before you return home. On the way back you will walk past Baan Kwan Chang elephant camp where you finish the day with an elephant trek. ( If you do not with to ride the elephant you can relax at the camp & feed the elephants instead.)
2. Klong Prao Trek

This new trek is great for anyone staying in the Klong Prao or Kai Bae areas – no need for a long ride in a pick up truck to get to the trekking area. You will start close to Klong Prao village, head inland through grassland and fruit and rubber plantations before starting to climb to the top of a 500 metre peak from where you'll be rewarded with spectacular views over Klong Prao and Kai Bae beaches. After lunch you'll head down the opposite side of the mountain stopping to swim in a water hole and then head back to the village.
3. Khao Jom Trek
Khao Jom is the 630 metre peak that towers over White Sand Beach. This trek will take you to the summit. The terrain, heat and humidity combine to make this trek challenging. In all you will be walking for approximately 6-7 hours and will be left feeling extremely tired but with a good sense of achievement. ( More details on this trek which is probably the toughest day trek on Koh Chang.)
The trek begins by walking through the flat fruit fields and rubber plantations in Klong Son valley before you start to climb up to Khao Chedi, and then descent into a valley before heading up to the summit of Khao Jom. On the way up you may see monkeys and also wild boar traps laid by local hunters plus numerous species of lizard, spider and forest plants that inhabit this area.
Once you reach the top you will be rewarded with breathtaking views across the jungle clad hills and valleys of Koh Chang. Directly below is White Sand beach and to the south Klong Prao and Kai Bae beaches stretch into the distance. You may even see flying below you some of the rare Hornbills and Eagles that live in this area. Then, having rested and eaten lunch on the summit, it is then time to start heading down.
After a hot day in the jungle, the final stop on the descent is at a water hole in the jungle where you can relax and swim in a cool mountain stream before you head back to your hotel.
This isn't a trek for anyone wanting an easy stroll in the jungle. It's a long day that will leave you feeling totally shattered – but with a great feeling of achievement when you look back at where you've walked.
4. Half Day Family Trek
If you are travelling with young children, or are looking for a gentle introduction to the jungle, this trek is for you.
The half day trek starts at 09.00 in Klong Prao village. You'll follow a track inland, on the way you will see some of the plants that only live in the jungle and will also pass through fruit and rubber plantations, where you'll see how the trees are tapped and rubber is produced.
There are no steep climbs on this trek and most of the terrain is flat, but you will get some great views of the inland mountains. During the trek you will also stop to cool down and swim at a waterhole in the river. The trek ends at around 12:00 at Chang Chutiman elephant camp, where you can feed the elephants before you are taken back to your hotel.
5. Salakphet Trek
This is my favourite trek on Koh Chang. It's tough but not so much that it will kill you, and the views from the top are amazing. Plus it's a circular route, so you go up and come down on different trails. Tan will take you from the starting point near Khiri Phet waterfall in the southeast of Koh Chang up to the top of Khao Laem, which overlooks the three bays in the south of Koh Chang – Salakphet, Salakok and Bangbao. You'll have lunch on a rocky outcrop near the top form where you get the 360 degree views. Then it's another short uphill climb to the summit – which is marked by a small Buddha statue, before the descent begins.
This will be a long day, you'll be picked up around 8 – 9am and probably won't get back until around 5.30 – 6 pm.
Group Size
The minimum is two people, maximum is around 8 people. No large groups. You will be picked up from your hotel around 08:30 – 09:00 and will get back to your hotel between 16:30 – 18:00 if you are on a full day trek.
Children
Apart from the half day trek, the treks are only suitable for physically fit children aged 14 or older. If they are 'big boned' , 'chubby ' or simply 'lazy' then it is best to leave them by the pool or in front of the TV for a day, rather than force march them up a hill in heat and humidity.
Schedule & Price 2021-22
| | | |
| --- | --- | --- |
| Day | Trek | Price |
| Monday | 1. Klong Son Trek (+ Elephant Trek) | 1,500 Baht |
| Tuesday & Saturday | 2. Klong Prao Trek | 1,000 Baht |
| Wednesday & Sunday | 3. Khao Jom Trek | 1,100 Baht |
| Thursday | 4. Salakphet trek | 1,200 Baht |
| Friday | 5. Half Day Family Trek | 600 Baht |
Price include transportation from & to your hotel, lunch, fruit, water, backpack (* Half day trek – lunch not included )
As group size is small, it is worth booking in advance. As Tan isn't really into email, it's best to call him or send an SMS if you want to book a trek direct with him. Or you can do so through any tour agent on the island.
Tel: +6689 645 2019 or +6689 832 2531