Discover Trat town.
Before we start, I should mention that there aren't any 'must see' sights or attractions. And no large resorts or brand name hotels. And no go-go bars or backpacker party places.
So why visit Trat? Simply because it's just a regular town with some good food, some pleasant places to stay, and heaps of laid back, local atmosphere.
Trat town is the capital of Trat province. Located around 300km east of Bangkok and bordered by Chanthaburi province to the west and the Cambodian border to the east. The Cardamom (Khao Banthat) mountain range forms a natural border with Cambodia. Whilst offshore lie a total of 52 islands.
The climate in and around Trat is one of the wettest in the country. From May to October rainfall can be as much as 1,000mm per month. But as in all tropical countries, the heavy rain usually comes in torrential overnight downpours or short heavy showers during the daytime. There's plenty of sunshine at this time of year. And consecutive grey and rainy days are pretty rare.
The upside is that this is a very fertile, green area of the country. You won't see any of the parched landscapes that can be found in the north. It is one of the main fruit growing areas of Thailand. Anyone visiting between March and August will find markets awash with a wide variety of inexpensive locally grown fruit.
A Bit of History . . .
Before tourism the province was best known for fruit farming, fishing and gemstone mines. So basically, wasn't of much use to the country. Therefore, it wasn't a surprise when, in early 20th century, the Siamese Kingdom signed an agreement with France, surrendering Trat to the colonial political power. This was in return for France relinquishing their decade long occupation of Chanthaburi town, which was then an important trading post.
The good news was that only a couple of years later Thai King Rama V, regained control of Trat from the French. Achieved by basically swapping it for a huge chunk of northeastern Cambodia, which includes the modern day Cambodian provinces of Battambang, Siem Reap and Sisophon. (In modern day tourism terms, one of the architectural wonders of the World, Angkor Wat, was exchanged for some nice beaches. )
The agreement was signed on 23 March 1906, and is celebrated annually as Trat Independence Day. This is also the reason why you will see reg flags bearing a white elephant on the displayed proudly on streets and outside businesses in Trat. This was the Siamese flag at the time Trat regained independence.
And if you happen to be in the town on March 23 you'll be able to join the festivities. There is a huge sound and light show in the centre of town. This includes music, fireworks and a parade with hundreds of Trat natives dressed in period costume. I don't advise watching all of the two hour long video below, from 2019's celebration, but it's well worth skipping through.
This wasn't the end of the French interest in Trat. In 1941, during the French-Thai War the French navy sailed from their base in Ho Chi Minh, Vietnam in an attempt to sail into Bangkok's port. They were intercepted by the Thai navy off Koh Chang. During the resulting 'Battle of Koh Chang' three Thai warships were sunk and, eventually, the French forces were ordered back to Vietnam.
Trat town remains a peaceful, sleepy provincial town. There is some tourism but most visitors to this part of Thailand pass by the town itself without making any effort to see it. And if people do stay, it's often only for a night either on their way to or from the Cambodian border or one of the islands.
During the 1980s when islands in the south of Thailand were opening up to tourism, Trat's proximity to Cambodia and the ongoing fighting with the Khmer Rouge held it back. For many years the islands were off limits to visitors.
In fact, Trat's most high profile foreign visitors during those years were Cambodian refugees. Plus the Khymer Rouge leader, Pol Pot. His reward for being responsible for the deaths of 2 million of his population was to have the Thai army allow him to live in a huge, fortified compound outside Trat town. 'Office 87' was where he lived and ran his insurgency plus a lucrative arms smuggling operation. This was aided by Thai government officials and local businessmen. All of whom became very wealthy as a result.
Trat town today . . .
However, if you haven't committed genocide and would simply like to stay in Trat just to sample some local life, it's definitely worth a couple of days of your time. There's good value accommodation in modern hotels and also a range of budget guesthouses. The town is also well known for it's bustling nightly street food market.
Trat town is a relatively sleepy place. The old riverside community lies just to the south of the centre, by the Bang Phra canal. It is here that you will still find narrow streets such as Thana Charoen Road, which is lined with old-fashioned houses and shops.
Of course nowadays these are interspersed with a few guesthouses, restaurants and small bars. Many years ago, the canal, which leads to the Trat river and then out to the sea. was a main route for trade. Islanders brought coconuts to sell and merchants from elsewhere on the eastern seaboard, and as far away as China, traded ceramic ware, herbs and spices. Murals on some of the house walls, depict the old lifestyle in the canal-side community.
Visitors will also see numerous basketware shops in the town and nearby villages, plus small bottles of 'yellow oil' for sale pretty much everywhere. This herbal oil originates from China and has been used in Trat as a homeopathic 'cure all' remedy for everything from mosquito bites to cancer for hundreds of years.
The French occupation of Trat was relatively short lived, and as such there is only one building still standing as a reminder of those times. This is the house that was the official residence of the French governor's, 'Residence Kampot' ( also spelt as 'Residang Gamport' for some reason). It is a 120 year old wooden building which is now used as the Office for Religious Affairs Buddhism of the Province of Trat. If you want to take a look, it is located on Lak Muang Rd, close to the popular Trat Boutique Hotel.
For visitors interested in learning more about the town and history of the province, Trat has a very nice museum. Trat Museum is housed in, what was once the City Hall, on Santisook Road. This is a large wooden building that was originally built during the French occupation. Over the years it fell into disrepair and was unused before being lovingly rebuilt in the early 2000s.
The museum covers the history of the Trat area. From prehistoric settlements. To it's early days as an important stopover for Chinese traders. To the occupation by the French in the early 1900's and the World War Two Battle of Koh Chang. Most information in both Thai & English. There are also several multimedia and video exhibits, again in both languages or with English subtitles. Entry to the museum is 30 Baht for foreign visitors.
Trat's most famous temple 'Wat Buppharam' lies about 25 minutes walk west of the town centre. It's a very well maintained temple complex which dates back over 400 years. It was founded in 1648 during the reign of King Prasat Thong who founded Trat town. The original buildings were replaced with more modern designs in the late 19th century. However, the original, red, laterite block, bases of some buildings were left behind. There's also a couple of small museums on site, which the monks will open up for interested visitors.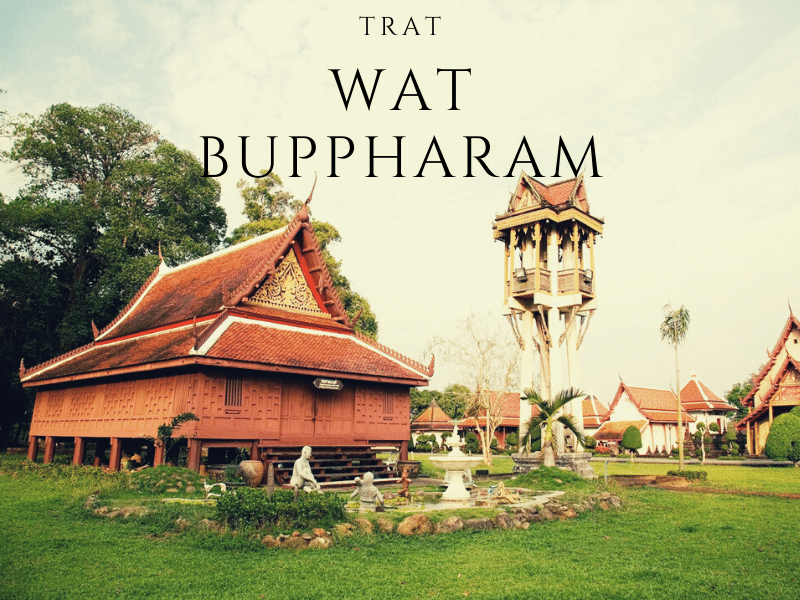 Hiring a bicycle is a good way to see around the town and once out of the centre the roads are good and there's little traffic. Less than a kilometre west of Trat town, and 5 minutes ride from Wat Buppharam, is 'Sa Sisiat' a large reservoir that provides the towns water supply. Although it's close to the town the area around it remains largely undeveloped and it's home to a wide array of water birds. There are some restaurants and coffeeshops dotted around the lake which is circled by both a new cycling / running track and a narrow road. This is where you can meet some of the locals out for their morning run or bike ride.
Closer to the centre, 200 metres west of the market, on Lak Mueang Road, lies the Chinese-style City Pillar Shrine (Chao Por Lak Mueang Shrine). This was built by King Taksin in the 1760s. The King visited the city in order to raise troops and also ordered a shrine to be built in a Chinese style. This was partly because Chinese wisdom said that all towns should have a central pillar which serves to protect the city from enemies and to bring peace to the people. And partly because it helped maintain a good relationship between local and Chinese traders.
Where to Stay in Trat town?
If value for money is important to you, then the accommodation in Trat definitely won't disappoint you. Until just a decade ago finding a place to stay was limited to just a couple of old hotels and a handful of quaint but very basic guesthouses. Nowadays that's changed and there are an increasing number of modern hotels and stylish guesthouses. And the best thing is that you'll find it hard to spend more than 1,500 Baht / night even if you stay in the best hotels in town.
Rimklong Boutique Hotel was probably the first small, stylish hotel to open in the town centre. Run by the affable Mr Tooh, it's one of the best guesthouses you will find anywhere on your travels. It's located in the old town area in a renovated brick and wood shophouse and oozes old fashioned charm. Rooms for around 1,000 – 1,500 Baht / night depending on the season.
If you want the best views then the obvious choice is Canvas Family Home by Sa Sisiat reservoir, just outside the town centre. This is a stylish coffeeshop with a handful of spacious, well appointed rooms. The coffeeshop is often packed with locals at the weekend and during the week is a popular spot for lunch. Rooms are great value from under 1,000 Baht / night, They also have large Family rooms for well under 2,000 Baht / night. If views are a priority, go for the 'Deluxe Room with Balcony' with floor to ceiling windows and panoramic views across the reservoir.
Trat 101 Waterfront Hotel is a very tastefully rebuilt house on Thana Charoen Road in the old town. The air-conditioned ensuite rooms are quite small but are bright and open onto the garden and huge mango tree. A good choice if you want a mix of the old and new. From 700 Baht / night.
Punn Pann Suk, on the eastern side of the town centre is another of those cosy locally run places that attract guests based on the friendliness of the owners rather than their modernity or style. Sure, it's a bit dated but is well run and you'll get a small ensuite double room for under 500 Baht/night. Larger rooms, suitable for a family or group of friends go for 700 Baht / night. Breakfast can be had for an additional 100 Baht / person.
Finally, anyone on an even tighter budget, how about Baan Jaidee. An old fashioned guesthouse which has racjed up well over 300 extremely positive reviews on booking.com. One of those places that's run by a super friendly local family and is like staying in a small museum combined with bric-a-brac shop. Don't expect staff in uniform, air-conditioning or standardised decor. Do expect simple, clean tidy and functional fan rooms with a shared bathroom from just 300 Baht / night including breakfast.
Here are three good options for anyone who prefers modern hotel rooms. JP Grande Hotel opened in late 2019 and is located to the north of the city centre near Bangkok Trat hospital. You'll find rooms here from 900 – 1,500 Baht / night including breakfast. They also have a swimming pool.
Not far away, Trat City Hotel is a small hotel, with salt water swimming pool, set back from the main road. You'll have no problem getting a room here for under 1,000 Baht/ night including buffet breakfast at any time of year.
Closer to the bus station, Chivapuri Residence is another good value small hotel. Rooms here are furnished with chunky handmade wooden beds and furniture, which makes a pleasant change to most places. Figure on around 1,200 Baht/night for a double room with breakfast.
Where to Eat in Trat
For many local residents, eating in the town in centered around the two main markets. The large indoor market and the open air night market a couple of minutes walk north. The night market is marked by an overhead sign on the main road in Thai and English. The English version reads 'Top street food in Trat by Trat people'
The indoor market is a large, sweat box with narrow aisles lined with stalls selling all manner of goods. If you want to buy anything and your only requirement is that it's dirt cheap, you'll find it here.
In the centre of the market are numerous fruit and food stalls. So even if you don't fancy the idea of buying anything it's an interesting place to browse a huge variety of fruits, snacks and food on offer. 30 Baht will get you a bowl of noodles, a braised pork and rice dish or a sampling of one of the many curries on offer. Traditional local curries are everywhere you will see trays lined up with various meats cooked with super spicy, chili paste concoctions that also include pineapple, for sweetness, and green coconut stalks for texture.
The night market starts late afternoon / early evening. But from lunchtime onwards you will see some workers hosing down the street in preparation and some stallholders setting up shop. It's not really a place to have a sit down meal, as it's a bustling area and most of the locals are buying food to take home. But some stalls have a couple of stools and fold up tables where you can eat in instead of taking away. Take a walk and just try 20 Baht of things that look interesting. There's everything from fruit and local desserts to fresh seafood. Some you'll love. Some you'll hate. Some you'll probably get food poisoning from – avoid the raw seafood dishes unless you have a hardy stomach.
If the markets are a bit too basic for you, try SaengFa Restaurant on the main road, opposite the government hospital. This is locally owned and serves up delicious Thai and Chinese food in an air-conditioned dining room. The menu is in Thai & English. They also have a good coffeeshop with excellent homemade cakes. (The owner speaks good English as she studied abroad, which is where her love of real cakes came from.)
When we're in Trat the one place that we try to go to, assuming it isn't packed out, is a simple Thai restaurant located 10 minutes walk from the indoor market on the way to Sa Sisiat reservoir. There's no sign in English but it's adjacent to a newly built apartment block. (Streetview image) This restaurant is well known for it's tom yam seafood noodles and 'Kao Man Gang'. A version of the Thai equivalent of Hainanese chicken rice, but served with crayfish meat instead of chicken. Delicious. There's fan and air-con seating. Sitting in the AC area is for the high rollers as it adds 5 Baht per dish onto the bill.
For some fusion food, and to hang out with the upper echelons of Trat society, head to Trat Marché – a hip coffeeshop / restaurant to the east of the town centre. The restaurant is famous for it's 'Pat krapow' menu. This is a staple Thai dish, usually made with minced pork and served with rice. But here you can can mix and match ingredients and there's a choice of over 100 variants of the dish. So no problem if you want to have it made with salmon and served with penne pasta.
There's very little written in English about restaurants in Trat, browsing Tripadvisor you get the feeling that there's hardly anywhere in the town where you can eat. But, of course, there are plenty of small eateries. And you will find lots listed online . . . on Thai websites.
So, a quick tip if you want to find the places that Thais rate highly is to use the Wongnai website. Use the Google Chrome auto translate and you'll get passable English. Reviewers always leave lots of photos and there's also a map with the location. Here are the listings for Trat (and yes, the top rated restaurant in the province – Thewtara Seafood, is definitely worth visiting if you have time. But it's a few kilometres south if the city.)
How to Get to Trat?
Driving to Trat from Bangkok can be as simple as following Sukhumvit Road, from the centre of Bangkok all the way around the eastern seaboard, to the centre of Trat town. This road, Highway 3, was one of the first roads built in Thailand. However, there are shorter, more direct routes available now which the majority of buses, minibuses and private cars will use. Take the motorway out of Bangkok, then Highway 344 to Klaeng. Then join Highway 3 and head directly to Trat.
Flying to Trat is also possible on Bangkok Airways. The charming Trat Airport, has 3 or 4 flights per day from Bangkok. It is owned by the airline, so prices are relatively high for the 50 minute flight.
Air-Conditioned buses depart from Ekkamai (Eastern bus terminal for Bangkok) to Trat on an hourly basis from six in the morning to midnight. Trat bus station is located a kilometre north of the town centre, just off Highway 3. The ticket price is 240 Baht and the journey takes around 5 to 5 and a half hours. Bus tickets can be booked online at http://www.pns-allthai.com/en/booking_1.php
Getting from Trat to Koh Chang, Koh Kood, Koh Mak and the Cambodian border
It is easy to take songthaew (pick up truck taxi) from the bus station or your hotel to one of the boat piers. Songtaews to Ao Thammachat & Centrepoint piers (for boats to Koh Chang) , Krom Luang pier (for boats to Koh Mak) and Laem Sok pier (for boats to Koh Kood) depart regularly from Trat bus station. But note that whilst the last boat to Koh Chang is at 19:30. The last speedboat to Koh Mak is at 16:00. And, if you're heading to Koh Kood, the last boat is at 15:00 during high Season and 13:00 during the low season.
However, any good tour agent, guesthouse or hotel in Trat town will either sell you a combined taxi and boat ticket or call one of the taxis to take you to the pier of your choice.
For anyone heading to Cambodia, there are air-conditioned minibuses from Trat bus station to the border at Hat Lek every 30 minutes from 05:00 to to 21:30. The journey takes around an hour and 15 minutes. Ticket price is 140 Baht.