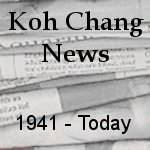 Bangkok Post, 12 June 2019
TRAT: A Briton was found dead near a swimming pool in front of his hotel room on Koh Chang island on Wednesday.
The tourist, 45, whose name was withheld pending notification of relatives, died at Sea View Koh Chang hotel, tourist police said. The death was reported at 11.45am.
A hotel cleaner told police the man had been lying in front of his room since the early morning. She alerted the hotel's manager, who found the man had no pulse and immediately alerted police at Koh Chang police station.
Police and forensic officers inspected the room and found no traces of a struggle, only packs of antacid pills and asthma medicine. Police then notified the Tourist Police Bureau, which alerted the British embassy.
Officers determined the man had been dead for several hours. His body was sent to the Forensic Medicine Institute for a post-mortem examination. An investigation to find out the cause of the man's death was continuing.
Source: Bangkok Post