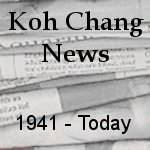 Bangkok Post – 4 April 2019
TRAT: Three German tourists paddling kayaks between offshore islands have been rescued after being pounded by strong waves and heavy rain and losing their way.
The tourists – Ms Jasmin Stiglmeier, 25; Tobias Stiglmeier, 30; and Saimon Stiglmeier, 35 – rented two kayaks from a bungalow at Kai Bae beach on Koh Chang, to go to Koh Yuak, about 4 kilometres away, on Tuesday.
On the way back to Koh Chang they were caught in a storm, with strong wind waves and heavy rain, and were unable to make it back to shore.
They sought help from the navy's sea rescue centre around 5pm on Tuesday, the First Fleet's civil affairs division said.
A navy vessel was assigned to search for them and found the three tourists lost and disoriented but still safe in their kayaks. They were were taken to nearby
Khlong Phrao
beach, arriving about 7pm.
The tourists were later handed into the care of tourist police on Koh Chang, who took them back to their bungalow at Kai Bae beach.