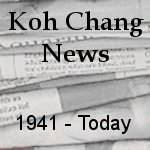 Khaleej Times
28 August 2019
Source: https://www.khaleejtimes.com/uae/dubai/Six-young-Emirati-women-experience-island-living-without-families-
The upcoming generation of Emirati women have been breaking barriers, challenging stereotypes and dreaming big – serving as role models for the country's young girls.
Six female university students, the first from the UAE, flew to Thailand for an exchange programme where they introduced the country, including its heritage, culture and people, to the teachers and students of the small, scenic Thai islands of Koh Mak and Koh Chang.
It was an epic week-long trip for Emirati media students Latifa Adel, Fatma Ahli, Amna Al Ali, Nada Hussain, Shaza Mohammed and Maryam Aljasmi, from the Zayed University and the Ajman University.
Besides presenting the UAE's values and traditions and learning about Thai culture, they tried squid fishing and picked coconuts using handmade tools ­- activities that are usually done by men. They also visited rubber plantations and organic farms, interacted with local Thai communities, and learnt jungle survival tactics.
According to Nada, meeting people from other cultures opened her mind and bolstered her confidence.
"Times are changing. My parents were initially apprehensive about sending me for this experience as women going out in an unknown land is not too common in our society. However, when I explained how this trip can help me grow, they allowed me to make a decision," Nada said.
Amna agreed that such trips make Emirati women stronger.
"I am glad our society is opening up and giving us a chance to explore the world, rather than restricting us to our homes. All this was possible because the UAE's founding father, the late Sheikh Zayed bin Sultan Al Nahyan, opened the doors to education for women," she said.
Another media student from Zayed University, Latifa, said it was a character-building opportunity.
"I think women should firmly believe in themselves and their capabilities, no matter what they're told. It's very important to always push yourself to do better," Latifa said.
Shaza and Fatma, who also travelled for the first time without their families, said their parents were encouraging and understanding about letting them explore on their own.
"We are grateful to our country for believing in us women, giving us such opportunities to go out and learn."
The trip was organised by the Royal Thai Consulate-General in Dubai and the Tourism Authority of Thailand.
The young women were among the few GCC citizens who were given a chance to experience the sustainable activities and practices of low-carbon islands Koh Mak and Koh Chang.