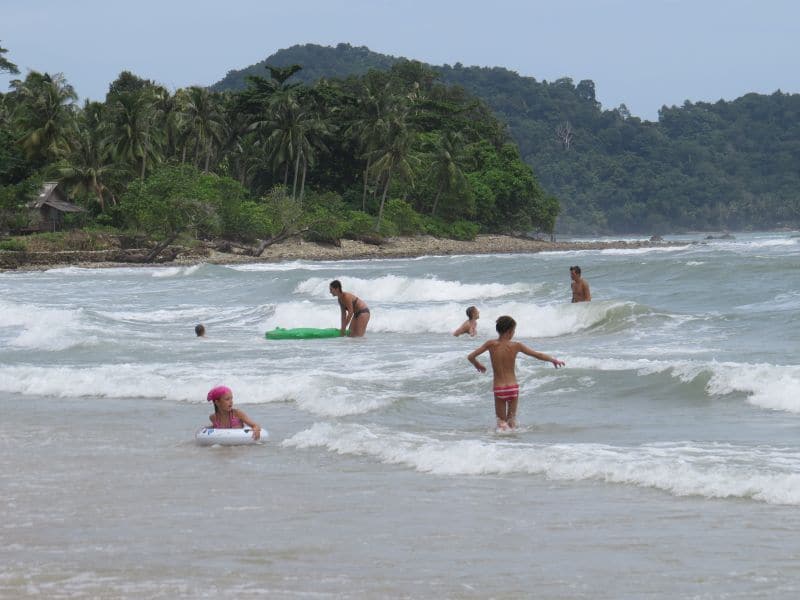 Low, rainy or green.  Take your pick on how to describe this time of year on Koh Chang.  The island is quieter than usual One of the most common questions I get asked is "What will the weather be like  in < insert month between May and October > ?"
Who knows?  The weather is as unpredictable as a cat high on a cocktail of Redbull and Valium during the rainy season.   The daily forecast will show an icon comprising  cloud, lightning bolt, rain and sun. The same icon, every day for 4 months or more.  And give a minimum of 70-80% chance of rain virtually every day.   The percentage chance of rain can be a bit misleading, that doesn't mean it will rain virtually all day.  Just that the chances are at some point, somewhere on the island a few drops or more of rain will fail.  The former is rare here.  The latter is very common.  Heavy rain is usually overnight, but there may well be tropical downpours during the day.
The majority of days are like today, pretty dry overall during daylight hours, plenty of cloud, some sun and quiet pretty much everywhere you go.
So, it isn't surprising that sunseekers don't flock to Koh Chang at this time of year.  You can't guarantee to return home much browner than when you left.  On the plus side you'll probably have your resort pretty much to yourself.  And outside there will be a deserted beach.  The waves might not look too large, but there can be strong rip currents, so care is needed – especially if you are Chinese and have never swum, or seen the sea, before and decide to go swimming – in which case you'll probably drown.  Like a few do every year.   The good news is, if you survive your day at the beach, there won't be any problems getting a table at any of the best reviewed restaurants.
If you want to swim in cool, clear water there are a couple of great spots where the locals go to swim in the rivers.  On a couple of kilometres past Bangbao on the road to Auchaleena Resort and the other in Klong Prao on the road to Klong Plu waterfall.  Both are easy to find and safe for kids.
If you just want to get away from it all then it's a good time of year to visit, here's a much more laid back atmosphere.  Plus hardly any traffic on the roads, so it's the best time of year for pottering around by scooter enjoying the sights.