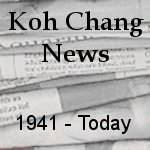 Bangkok Post 29 July 2020
Tourists, flocking to Trat's three famous islands over the long holiday weekend, brought 328 million baht to the easternmost province.
Ampai Sakdanukulchit Sliwinski, analyst of Trat's Office of Tourism and Sports, said that between July 25-28, 40,000 tourists flocked to Trat and 36,500 of them headed to the three famous islands of Koh Chang, Koh Mak and Koh Kood.
Ms Ampai said there were 5% more tourists during the recent long holiday weekend than earlier this month during the holiday that fell on July 4-7.
Some 30,000 tourists traveled to the province and 90% of them were Thai visitors.
She said the number of tourists has increased thanks to the government's tourism stimulus package to subsidize travel costs for hotels, entrance fees and meals.
Ms Ampai said the government should continue to subsidize travel to maintain economic growth and enable the country to recover from the losses caused by the Covid-19 pandemic.
"I think the government's tourism stimulus package is able to generate income in each community and in each province. Overall it will help restore growth," said Ms Ampai.
According to a survey among hotel owners on the three islands, she said, Koh Chang had the most visitors at 22,000, who stayed in 7,796 rooms at 276 hotels.
Koh Kood had 11,000 visitors who stayed in 1,360 rooms at 66 hotels, and Koh Mak had 3,500 visitors who stayed in 700 rooms at 43 hotels, according to the survey.
Ms Ampai said each traveler spent, on average, 3,000 baht per night, with all travellers generating 328,500,000 baht over the long weekend.