Koh Chang made it onto the national news.  The army have been checking on , what they a say are illegally built resorts, businesses and homes.  These are built too close to the sea; on National Park land or on untitled farmland, which according to the letter of the law shouldn't be sold or built on.  But due to the lack of available land on Koh Chang, has been.  Over 500 buildings are reported to be illegal.  At present, no-one knows what will happen to them or how serious the Army will be about tearing them down.  English language news story.
Among the businesses affected are the ramshackle bungalows on the hillside at the north end of White Sand beach. This photo was sent to me through Facebook by Michael, who's here on holiday.  Shows the army on an inspection tour last week.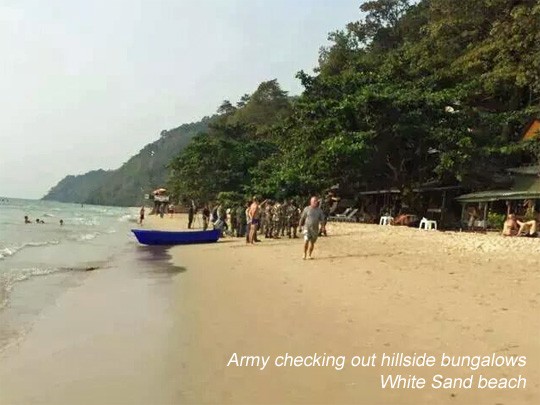 One of the other main areas affected is probably Lonely beach ( although the news reports haven't mentioned specific places )  Years ago I was allowed to take photos of a map showing original National Park boundaries.  This also showed land plots.  Before the island was developed for tourism, all of Lonely beach was within the National Park boundary, which ran along the coastline from the south of Kai Bae village down to Bailan before coming inland again.  Over the years I have a feeling the boundaries may have been redrawn to benefit landowners – as has happened in many other National Parks.  So, again, it'll be interesting to see what, if anything, happens in the coming months.
Down on Koh Kood the Navy have been doing the same thing.  Warning people off buying Por Bor Tor 5 farmland and taking notes on , possibly, illegally built resorts.
I went out of the scooter the other day to see if I could find anything interesting and ended up on a hilltop at a new statue of the mother of a local landowner.   This is in Klong Prao and is visible from the main road but to get to it involves going through what is probably private land so best not to put details of how to get there here.  ( Hint: For anyone wanting an adventure, access is from the back of the hill. )
Some things never change.  Such as the waste water that gets pumped from businesses onto White Sand beach.  The walkway between KC Grande Resort and Yakah Bungalows, a public  accessway to the beach, is shown the photos below.  Another drainage channel nearer the south end, adjacent to Kacha Resort, isn't much better.  I can only assume that the local businesses don't care so long as they continue to make money.   The good news is that it will get cleaned up. Eventually. Because enough people will complain and so the powers that be will sense a photo opportunity & will turn out in force for a clean up.  The drainage channels will be cleaned, garbage removed.  Handshakes and 'Wai's all round and that will be that. Job done.  Until the next year.  One thing that won't happen is that anyone will bother to find out where the waste is coming from and have words with the culprits.
I added a post about the harm visitors are doing by feeding the wild monkeys.  So it was nice to see these monkeys doing what monkeys should do and foraging for food by the roadside on the hill near White Sand beach the other day.
A couple photos of the ferries arriving on Koh Chang.  At the main pier, Ao Sapporot and the less popular but friendlier, Centrepoint pier.   Unless you are arriving from Koh Mak or Koh Kood, you'll set foot on Koh Chang at one of these piers.  Aerial video of Koh Chang Ferry
I also got a cheap underwater camera to play around with.  not specifically for use here, but this time next month we'll be taking a holiday in one of the world's best snorkelling spots, so I thought it'd be handy to have a camera.  This video and photos were taken at Koh Yuak, a small island off the west coast of Koh Chang.  It is possible to kayak out there – but take lots of water.  Alternatively,  Kai Bae Hut Speedboat often run short snorkelling trips here as do some resorts that have their own boats.