Every year at the end of the rainy season, jellyfish gather off the west coast of Koh Chang , especially Klong Prao beach.  The jellyfish are the annoying type rather than the dangerous type and there are usually enough of them to be a nuisance.  But not enough to make it newsworthy in any way.  Just over a week ago a Thai guy posted some photos online of a kilometre long swarm of jellyfish off a beach in Trat and many of the jellyfish were a sapphire blue.  Now that was impressive, so we went to take a look.  Never seen anything like it before, a very impressive sight.  They come to that area of coastline annually, but never before in such numbers. (Interesting fact, there is a name for a fear of Jellyfish and it is 'Jellyfish Phobia' that's as good as humanity has managed to come up with since the ancient Greeks invented their own word for fear. )   More photos and location.
I also went to check out Wai Chaek beach, the only undeveloped beach on Koh Chang to see a) if it was still possible to get there by scooter and b) if there were any signs that work on the road connecting Salakphet to Bangbao will restart.  In brief, 'Yes it is' and 'No there aren't at the moment.'  The road to Wai Chaek is a bit hairy in places and then you have the river crossing and a dirt track to negotiate it but if I can do it on an old 115cc scooter then it shouldn't be a problem for most people to get down there if they really want to have an adventure.  Some very basic huts are also being built on the headland overlooking the beach, looks like they're from a Thai bar owner in Lonely Beach.  From the beach you can then take a detour through a rubber tree plantation, to get around a washed out bridge, continue to follow the old road another 3 – 4 Km.  Not too sure how far as my odometer doesn't work. Don;t get lost or break down as there isn't anyone around or mobile coverage in most of that area of Koh Chang.  Here are photos & directions to Wai Chaek  if you want to do something dumb /  adventurous on holiday.
Down on Koh Mak the scheduled, daily catamaran ferry service between Koh Mak and the mainland has been scrapped this High Season in favour of various different day trips.  The cat will still make a trip to the mainland once a week but will also visit Koh Kood twice a week, do a day trip to Koh Kradat and also a couple of trips around the western shores of Koh Mak ideal for snorkellers and anyone wanting to check out the 'underwater elephants off Koh Rayang. Click for Full schedule
It's local election time here on Koh Chang and the two main 'teams' have been on the campaign trail.  The Thai contingent at our house who are eligible to vote were a bit disappointed that so far no vote buying has taken place.  The reasoning is that if both alternatives are equally unappealing and regardless of what happens you're going to be stuck with one of them and their dodgy mates running things for their own benefit, then you might as well get paid to vote for them.
Meanwhile on the opposite side of the world, readers of Resa, the weekly travel magazine from Swedish newspaper Aftonbladet, were treated to a feature on Baan Rim Nam,  our guesthouse.  Which was a bit of a surprise for me as I didn't know we were going to be in it.  I haven't seen a copy, but been told there's quite a few pics of our place and even one of me – this will be the one time when I hope some photoshopping has taken place as I cant recall ever looking my best for any Nikon wielding Scandis.  Read all about it.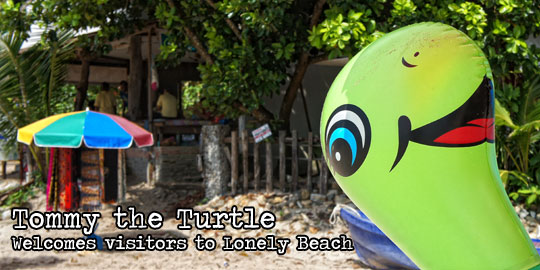 I'm still in the process of updating stuff for this coming High Season and will get round to the restaurant page at some point.  Had a very nice meal and a handful of excellent cocktails at Moon's , which along with Kati Culinary and Saffron on the Sea, remain my Top 3 places to eat really good Thai food on Koh Chang.  But high up in the second tier of restaurants, those that probably won't be on  my 'Must Eat At' list, but are definitely with trying if you are in the area is Tiger Hut on Klong Prao beach.  Conventional wisdom has it that Thai food at a place that caters to budget backpackers is likely cheap on account it being small portions of bland crap.  Couldn't be further from the truth at Tiger Hut,  where they make proper Thai food that Thai people enjoy eating but serve it in Western sized portions at decent prices, meaning that first time you go there you will most likely over order.  They have a cocktail menu too but most aren't exceptional, their one unique concoction – Koh Chang Dream –  is pretty interesting though.  ( Coming next month and running alongside the Thai restaurant will be a beachfront branch of a White Sand beach restaurant specializing in pizzas and steaks.)
I've been contacted by a Bangkok businesswoman about helping find someone who is interested in establishing /  running  a beach resort on the island.  They have a large area of land and two thirds of it is already rented out – the lessees have built a popular resort on it which has been running for about 6 years now.  The remaining 4.5 Rai ( 8,000 Sqm ) is therefore available either for rent or to jointly develop or the owner is willing to finance the building of an upmarket 10-15 bungalow resort and then lease  the brand new completed resort to someone to run on a long term basis.   This is a nice plot of land with sunset views, in quiet location, but within 5-10 minutes walk of plenty shops, bars and restaurants.  Great place for a boutique resort.   This is a serious proposition for a serious investor who wants to make a very nice living on Koh Chang running  a real resort business. If you're interested in knowing more, let me know.
It's not often that anyone posts a video on Youtube entitled 'เกาะช้างมีนม' ( i.e. 'Koh Chang with boobs')  – but that's what this Thai glamour model & skin whitening lotion advocate,  Miss Arpapron, and her friends have done.  I'm linking to it purely for informational purposes so that anyone staying at Keereeta Lagoon in Klong Prao can see a bit of the resort and just how small their indoor pool is.  Before anyone gets carried away, it's nothing too erotic, it's 'Work Safe'  that is providing your boss doesn't mind you ogling videos of Thai girls in bikinis the office.