Modern Dog will play a concert at The Hut, Klong Prao on March 31.   If you aren't appear particularly overwhelmed by that it is understandable as they aren't that big outside Thailand – although they have toured in the US and Europe.   But here it is the equivalent of having, say,   Blur, show up at your village hall for a gig.   Modern Dog have been around for getting on 20 years and if there's a big event in Bangkok you can guarantee they will be one of the headline acts.   So, kudos to the new management at The Hut who have now revamped the place and have live music on regularly, for getting the band to come and play. They are headlining a concert called 'Over Song on the Beach' that will start at 4pm and go on until 1am-ish on the 31st of this month.   It is mainly being marketed to Thai music fans coming down from Bangkok.   Tickets are on sale for 500 Baht through Thaiticketmaster.com.
Where is all the garbage coming from? I heard from a few people now that the sea around this part of Thailand has the most garbage floating in it that anyone can remember seeing.   I've noticed it too when out kayaking, some patches of ocean are full of plastic.   First reaction is to blame fishermen for throwing stuff overboard.   But this isn't garbage off fishing boats, there's way too much and it looks like normal household waste. Also way too much for it to be just locals tipping a few bags into the ocean every now and then.   On Koh Chang there isn't much evidence of it on the beaches, likewise on Koh Kood, but down on Koh Mak they have a big problem.   The long sweeping   south-west facing bay which is exposed the the SW winds that blow at this time of year, is covered in plastic daily.   All the resorts have people out on the beach doing their best to clean the debris off their stretches of beachfront,   but it is a losing battle as more is washed up throughout the day. None of the undeveloped beachfront is ever cleaned as there is no local government budget to hire workers to do the job.   The best explanation I have heard is from Nick at Sea Breeze restaurant, near us, who is out daily in his boat fishing and puts it down to debris from the floods in Bangkok which must have carried a huge amount of garbage out into the Gulf of Thailand.   On the face of that that would seem to be the most logical cause.   This is how some stretches of beach look on Koh Mak before they are cleaned in the morning:
Thaibreak 2012 kicks off on Koh Mak next week.   This is when 200+ Germans set up camp on the island for a couple of weeks of mellow partying. In tow,   they will have a 10 man team running the sound system and there are a couple of all night parties planned. But these aren't the usual gap year party goers, they are well to do middle aged ravers who have this year switched from Koh Pha-Ngan to Koh Mak.   Nevertheless a multitude of DJ's are lined up and four resorts – Koh Mak Resort, Cococape, Islanda and Suchanaree have been rented out in their entirety by the organisers. It will be the biggest event of it's kind in this part of Thailand and will hopefully benefit many small businesses on the island.
Meanwhile on Koh Chang . . . the far quieter Contact Improv 'Catch the Wave' Festival is being held at Tiger Hut, Klong Prao right now, on until the 11th.   This is a form of dance with no rules and participants from around the world are attending. Some blurb: "Warm water allows to find full relaxation and flowing quality in the body. We will practice easy, light, fluid, natural movement in our dance. Yielding and letting go gives chance to connect with inner depth, to live, breathe and manifest oneself naturally. This is an invitation to travel inside and outside at the same time, developing contact with oneself and with the world." So, maybe not for everyone.

My 'Islands' project is now complete. I have now visited all the islands in the Koh Chang Marine National Park by kayak. I know other people have done this by boat, but I'm pretty sure not many people have done it by kayak before.   I will finish adding photos of all the islands in the next week or so.   If you are interested to know how many there are   – as some sources say, 52, some say 46, the National Park website just says over 40 then keep checking the Islands page and all will be revealed. Clue: It isn't 52 or 46, but it is over 40.   Just hope I haven't missed any. :-)     However, I can see where the 52 figure comes from, which is the number that is most widely used – as that includes islands in the area outside the boundary of the Marine National Park.   However, even then I think that is incorrect as I count 54.   This includes two small islands that aren't named on most maps but are named on an old map that I have.   More marine pedantry another time.
Three interesting signs that have appeared recently on Koh Chang. One warning of the perils of buying Por Bor Tor 5 titled farmland – which might be why I have recently had some Thai owners email me about selling their land; one for complaints against local taxi or minibus drivers who are 'impolite' – so, if they rip you off with a smile on their face then there's not much you can do about it; and one advising patrons that they really shouldn't bring firearms and drugs into bars – although I would assume that the type of people who habitually enter bars tooled up and with various illicit substances is also probably the type who might ignore a sign.
Bureaucrats. I also encountered this sign whilst I was paddling around the other day. As pointless signs go, it is one of the best I have seen anywhere. Just goes to show, you can travel half way round the world on holiday but you can't escape red tape.   "Today, I will close the ocean. Why? Because I can."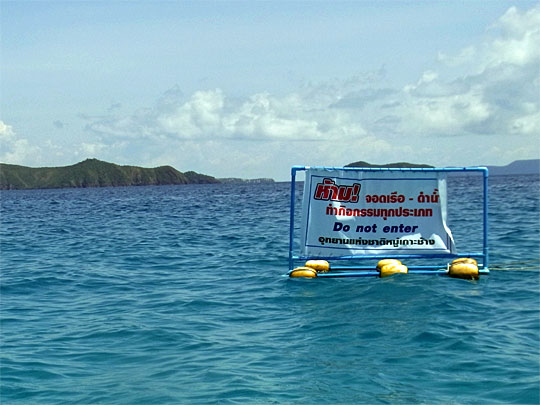 Flipside. I've shown photos of the mess on Koh Mak's beaches but not all the island's beachfront is affected. Likewise it shouldn't put you off visiting the island. I will add a proper photo gallery in the coming days, but here are some of the sights.   One thing I didn't manage to get a photo of were dolphins. I saw a pod make their way down the east coast of Koh Mak, down past Koh Rayang and head south towards Koh Kood.   This was all in the far distance but could easily see some them leaping out of the water.   When I reached Koh Rayang I asked Jeab who runs the island's only resort ( Rayang Phurin ) if he had seen them and was told that this high season they have been seen on numerous occasions in the area.
Thanks to Ann at Coconut Restaurant on Ao Suan Yai, just north of Suchanaree and Koh Mak Resort, for the interesting and enlightening conversation. Call in for a chat with her if you want to know more about the history of the island and its politics – it could be a plot from a daytime soap opera or Shakespearean tragedy. And Ball's, from kohmak.com, Mum for worrying us farangs at dinner when she talked about some land she bought that was in an area "famous for Thai heroin" and that "all the local people loved the heroin" and that is what made them successful in business.   It took us a few minutes to realise she was on about a historical 'heroine'. Which was then followed by a collective sigh of relief that we weren't in the company of a OAP drug kingpin. Also to Pom & Dara at Koh Mak Holiday for the room and for being great hosts – for a friendly, quiet, no frills bungalow you can't go wrong there. Finally, go and sample Kat's coffee at Thaidaho Vista, which is getting a reputation as being the best on the island.   The amazing views from the terrace are just an additional bonus.
New Accommodation. If you happen to be on Koh Rang, the National Park now has a couple of very nice bungalows for rent.   They have just been completed, look like they will open soon. No idea of prices as I didn't bother to ask as I was too busy stuffing my face at their new restaurant. As I tend not to plan too much, I'd brought a bag of peanuts with me as sustenance for the 8 or so hours I spent paddling around 30Km in 35C sun, so being able to eat in a beach restaurant with cracking views and no other diners apart from a couple of park rangers was a welcome, if unexpected, bonus.