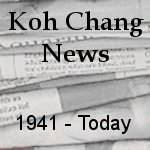 Bangkok Post June 4, 2005
A joint committee investigating 12 cases of forest encroachment and illegal land right acquisitions on Koh Chang is preparing to file charges against the owner of the biggest shrimp farm on the island, for trespassing on mangrove forest.
The 204-rai Farm Koh Chang belongs to Phisut Ratanawong, managing director of Koh Chang International, the operator of Koh Chang's ferry service.
Mr Phisut said Charoen Pokphand Group was a part-investor in the farm. However, a CP spokesman said the company was not involved with the farm's operation.
The shrimp farm is in the heart of Salak Kok mangrove forest in tambon Koh Chang Tai.
"Mangrove forests across the country are protected under a 1998 cabinet resolution, which says any use of mangroves after that year must be approved by cabinet and issuing title deeds over forest areas is prohibited," said Mu Koh Chang National Park's senior officer in charge of cracking down on forest and public land encroachers.
"I believe the title deeds for this plot of land were illegally obtained," said the officer, who asked for anonymity. The case was listed as one of 12 serious land encroachment cases on the island, under investigation by the Department of Special Investigation and a committee of inquiry, chaired by the Trat provincial governor.
Forestry officers first inspected the shrimp farm in 2003. Farm Koh Chang's owner then presented the Sor Kor 1 land use permission documents.
"While we were verifying his Sor Kor 1, the land department surprised us by granting 12 title deeds to the farm owner. This brought our investigation to an abrupt end," he said. "I wonder how those title deeds could be issued in a mangrove area."
A Salak Kok villager said Mr Phisut, known as Sia Toi, bought a small plot of paddy field from a villager holding Sor Kor 1 documents to run a shrimp farm, which grew to cover an area of more than 200 rai, including mangrove forest, in less than a decade.
Small-scale fishermen in the 40-year-old fishing village, meanwhile, have complained of wastewater discharge from the farm.
Fisherman Udon Polkaj, 42, said wastewater from the farm had killed hundreds of fish and marine animals in Salak Kok bay. Villagers witnessed wastewater being discharged from the farm into canals, which snake through the mangroves before pouring into Salak Kok bay, an abundant "seafood bank" for villagers. "The water is greenish and smells bad," said Mr Udon, who lost all his fish baskets worth more than 30,000 baht last year. He said the villagers used to earn money from aquaculture in Salak Kok bay, but after Sia Toi ran the shrimp farm, the water became too polluted to raise fish.
Mr Phisut dismissed the allegations, saying he obtained the 204-rai plots legally. "I bought the first plots of land and ran the farm over a decade ago. The business grew fast, so I bought more farmland from the villagers, who had the Sor Kor 1 papers, which were later upgraded to title deeds," he said. "The land used to be abandoned paddy field, which is not protected under any law," he said, denying mangroves had ever existed in the area. "If I've done anything wrong, why did the government let me run the farm for over a decade?" he asked. Mr Phisut also denied discharging wastewater, saying the farm had its own wastewater treatment plant.
+++
It's rare to see a paddy field in an area so close to mangroves as rice paddies require fresh water, not the brackish water mangroves need to live, thrive and survive. Also strange to see Forestry Dept. officials mistake a mangrove area for an abandoned paddy field.