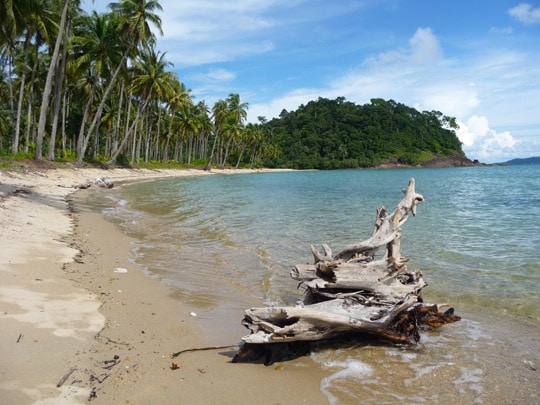 Way down on the southern coast of Koh Chang is a lovely half moon beach called 'Wai Chaek'. Eventually, once the road between Bangbao and Salakphet is restarted and the road completed, it will be relatively easy to visit this beach and it's sure to be ruined. The first steps on trashing it have already begun when last year one of the tour boat companies ran weekly beach parties for Russians here.
The first attempt at building a road between Bangbao and Salakphet was called off a few years ago and back then you could easily drive a car along the recently laid, single lane tarmac road from the Salakphet end of the road to a point close to Wai Chaek. from where there was a dirt track that ran through   grassland. The first time I went there was in an old Nissan Sunny, a car not known for it's offroad abilities. However, since then the road has deteriorated in quite a few places and I wouldn't advise trying to get to the beach in a vehicle unless it was a 4×4 that you didn't mind getting a bit scratched by undergrowth and tree branches.
But you can still get there by scooter. I used my old Yamaha Mio – it's the sort of bike you'll rent if you visit Koh Chang. It is a bit tricky in places, especially the river crossing and its muddy bank, but it's a fun ride and you'll be rewarded by some great views. ( I visited early October, but but High Season the small river will just be a stony riverbed and there shouldn't be any mud.) The main thing to remember is not to break down or run out of petrol here, as there is no mobile phone signal, no passing traffic – other than the odd rubber tapper or coconut picker – and you wouldn't be able to push a bike up the hills.   Needless to say there are no shops of any kind here, so bring drinking water with you.