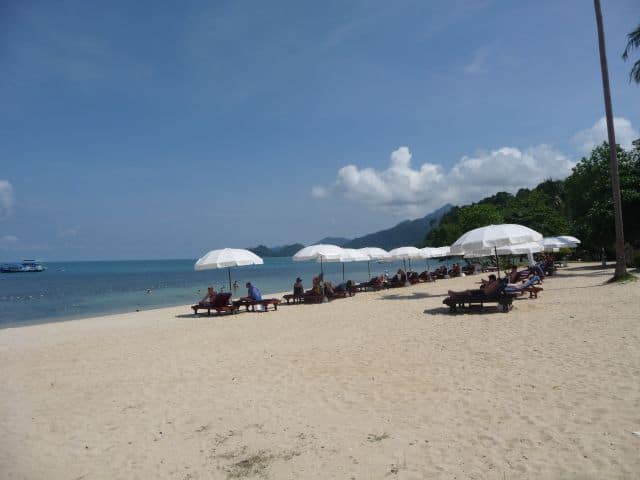 In April & May you always get low tides during the day. This makes for the best time of year to take photos of beaches on Koh Chang. Pretty much all the photos on hotel websites showing sunshine and a wide expanse of beach will have been taken outside the main high season months.   This is because the period from November to March also happens to be the time of year with the highest daytime tides, and therefore least amount of beach visible.
I took a quick wander along Kai Bae just to see how busy it was and what the sand was like. The nicest stretch of sand is outside Chang Park Resort, the downside is that this is the busiest area and you wont hear any language other than Russian being spoken as the resort is now run by a Russian tour company. But like a lot of Kai Bae, the beach isn't great for swimming as there are stones underfoot, however a small area has been cleared and roped off with buoys to make is safe for swimmers. Moving south Gajapuri & The Chill have, even at low tide, relatively narrow areas of beachfront.
At the southern end of the beach, KB Resort was easily the most popular place, with a couple of dozen bodies littering the sand. But again quite a few stones in the water, making it not so easy to swim. South, nearer Mam Kai Bae is a better spot with fewer stones and wider beach. Way down the end, at Sea View Resort, there is an area where is it pretty obvious that the sea bed has been cleared of stones this making it much easier for their guests to walk out into deeper water to swim, and also allowing speedboats to get close to the beach.