Bangkok Post 5 March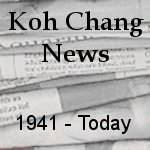 2014
Crystal clear water, uncrowded beaches and sunshine are not the main reasons for Sel Bellai, a Dutch businessman, and his family to visit Koh Mak every year for four years.
"We love Koh Mak because it's the real Thailand," said Bellai, who has been to many places in the Kingdom in the last nine years.
"Koh Mak is unspoilt. It's the same as it used to be. People are nice. We have found a really good resort and feel like the owner is family," he added.
Bellai and his wife brought their bicycles from Holland to Thailand. His bike also has a child seat to carry their two-and-a-half-year old daughter. They cycled from Bangkok to Trat and crossed over to Koh Mak. "We work hard all-year round. Koh Mak is like our second home," he added.
Located to the east of Bangkok and near the Cambodian border, Koh Mak is a tiny island between well-known Koh Chang and Koh Kut in Trat. Most of the island is coconut and rubber plantations.
It was said that settlement in Koh Mak started more than 110 years ago when Luang Prompakdi, or Plian Taveteekul, a wealthy man, moved with his family from Koh Po in Prachan Khiri Khet province of Siam after the island was colonised by the French and became part of today's Koh Kong in Cambodia.
"My great grandfather bought the island from a coconut plantation owner during the reign of King Rama V," according to Jakrapad Taveteekul, chairman of the Trat Tourism Industrial Council and owner of Koh Mak Resort.
Starting with one family, the island has been mostly owned by five families.  "We are all relatives," he said.
Over the years, more resorts have opened and there are now 35 dotting the beaches of the small island.
Koh Mak has always been known as a laid-back island, with no jet skis, banana boats, shopping malls, pubs, bars or full-moon parties.
The magnet is its pure nature and kindness of people, said Pralongyuth Metheeratn, a Bangkokian who visited the island for a short break, but ended up living there for more than 12 years.
"I used to collect litter on the beaches during my first year on the island. I also organised beach cleaning activities annually and let visitors join. It was a popular event among European travellers, who like volunteering. They love to do good and meaningful things while on vacation," he said.
As long as the community can keep its balance between development and sustainable tourism, the island will never lose its charm, he added.
To keep the island as pleasant as it is, owners of the 35 resorts and about 20 restaurants signed a joint pledge three years ago to make Koh Mak a low carbon destination.
The movement got strong support from central government agencies, namely the Designated Areas for Sustainable Tourism Administration (Dasta) and the Institute for Small and Medium Enterprises Development (ISMED), who help transfer knowledge about sustainable tourism, initiating green projects and building up brand awareness among tourists.
In the last past three years, solar cells have been implemented in many resorts, restaurants and coffee shops. The electricity is used for water pumps in swimming pools, brightening up electricity lights along walkways and dining areas in resorts, and for hot water in guest rooms.
A small plant to manage garbage was built last May. Called Energy Park, the plant was constructed by Dasta and Koh Mak municipality at a cost of 7 million baht. It can manage about 30 tonnes of waste produced by 500 households and resorts per month, said Tanisorn Deebuk, plant manager. Located on a 5 rai plot of land, the plant can turn organic waste into fertiliser and bio-gas for boiling water to be used at the plant. Recycled waste such as plastic and glass bottles, aluminium cans and paper are collected and transported to the mainland for resale.
"We also transfer knowledge to resorts to implement bio-gas systems to turn leftover food from their kitchens to cooking gas," he said.
In addition, resorts and restaurants also support local fishermen by buying their daily catch in order to reduce carbon footprints generated by food transportation from the mainland. Some resorts also encourage guests to join their green activities such as planting trees, biking or releasing sea turtles, which is done in co-operation with the Sea Turtles Conservation Centre of the Royal Thai Navy in Ao Tao Khai, Chon Buri, where sea turtles used to lay eggs decades ago.
Koh Mak welcomed about 120,000 visitors in 2014, up 3% from the year before. "Koh Mak does not want mass tourism," said ISMED vice-president Thanan Apivantanaporn.
The position of the island is for a niche market and is targeted to those who love natural scenery. "When resort owners know the value of what they have, they will try to protect the resources of their island. Koh Mak is now a role model for sustainable tourism," he added.
The first place to start exploring Koh Mak is the Koh Mak Museum. It was founded in 2008 by Tanin Suttitanakull, a descendant of one of five old families of Koh Mak and owner of Koh Mak Seafood restaurant. He spent about 200,000 baht to renovate his father's 90-year-old, two-storey house, which is now the museum. Exhibitions include the island's history, old pictures, tableware and collections of his family and other locals. Lights in the museum are solar-powered. The museum is at Ao Nid and is open daily, 10.30am-9pm. There is no entrance fee.
To see the sunrise, locals recommend a visit to the Koh Mak temple. The temple is on a hill over looking Ao Nid. Local fishermen believe the walking Buddha statue keeps them safe.
Seafood served on the island often the catch of the day, because restaurants and hotels have joined the 'Eat It Fresh' campaign organised by Dasta and ISMED. The campaign also encourages resorts to grow organic vegetables and fruits.
Touring and volunteering on organic farms is also catching on. Koh Mak is home to two organic farms, the pioneer being Ao Khao Harmony Farm, managed by Australian Paul Willett, left, who farms 10 rai at Ao Khao Resort. With more than 12 years in farming, he has planted many vegetables, including pumpkins, cucumbers, chillies, herbs, salad vegetables and fruit trees like papaya and melon. He also grows sunflowers and has recently planted Arabica coffee. Another organic garden is in Koh Mak Resort. Three rai is used for planting vegetable salads, tomatoes, aubergines and herbs. Both organic farms are open to visitors.