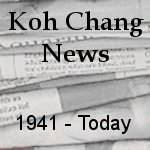 Leicester Mercury, 13 April
A motorcyclist who was badly injured in a bike crash in Thailand fears he could be forced out of hospital if his money runs out.
Carlos Nunez is currently in intensive care at the private Bangkok Trat Hospital after suffering serious spinal injuries, seven broken ribs and punctured lungs in the collision. The 34-year-old and his partner Michelle Fletcher, from the Narborough Road area of Leicester, have already had to pay out £3,000 for treatment on credit cards after it emerged he was not insured to use the bike.
They fear they may not be able to pay the final bill – which could be up to £30,000 – and that he be forced to leave the hospital. Speaking from his bedside, Michelle said: "It is a nightmare. I had to pay £1,000 before the hospital started treatment." She said building worker Carlos was anxious about the situation and what would happen to him. Doctors have said he can not fly home for another month because of his injuries. Michelle added: "He can move his arms and his legs despite suffering a chipped vertebrae."
The couple were in Thailand with a group of friends celebrating a 40th birthday and were one week into the fortnight trip when the crash happened. Carlos, an experienced biker, was riding a 125cc Honda machine on Tuesday morning when he was hit by a car travelling on the wrong side of the road on the holiday island of Ko Chang. But his travel insurance did not cover the accident.
When Carlos hired the bike from the hotel he understood that the hire package included insurance cover. But after the collision, Michelle said the hotel refused pay out and staff said that Carlos was not covered by the insurance.
Michelle, 39, said: "At one stage, despite his serious injuries, Carlos was moved to the nearby government hospital but the conditions and treatment were terrible. "To get him back into the private hospital we had to pay an extra £2,000. "We do not know how much the complete bill will be. We fear it could be as high as £30,000."
The family fear if they don't come up with the money the hospital will refuse to treat Carlos. She added: "We have contacted the British Embassy and the Foreign Office. "However the local police do not seem interested in investigating the accident despite eyewitnesses who can say what happened." His step mother Nilma Nunez, from Syston said: "We are trying to organise funds and to sort out accommodation where they can stay until Carlos is fit to fly home."
The Mercury tried to obtain a comment from the management of the Paradise Cottage hotel complex on Ko Chang but was unsuccessful. A spokesman for the Foreign and Commonwealth Office said: "We can confirm that a British national has been hospitalised in Ko Chang, Thailand. We have been in contact with the family and are offering consular assistance".
+++
This is a reminder that when you rent a scooter anywhere in Thailand it won't have anything other than the legally required basic, third party insurance. It's impossible to get fully comprehensive insurance for a scooter as the premiums would be way too high – due to the sheer number of accidents.
Your travel insurance almost certainly won't cover scooter rental – check the small print. And even if it does, they'll be a proviso that you must already hold a motorcycle license and , most likely, an international licence.