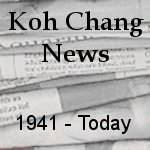 New York Times, 20 February 2015
Under a blazing midday sun in late 2013, Allen Stewart surveyed the scene before him: The Gulf of Thailand, a spectrum of blues, stretched out as far as the eye could see. To the west, the jagged, emerald-hued peaks of Koh Chang emerged; the Cardamom Mountains of Cambodia rose to the east. Thick swaths of palm trees hugged empty white sand beaches below.
"I looked around for years for something like this," Mr. Stewart, 60, said of the heart-stopping view. "I grew up outside of Yellowstone — how do you match that? But when I saw this, it took about three seconds to say, 'Yup, this is what we've been looking for.' "
Mr. Stewart began sharing that affection in 2011, when he and his wife opened Thaidaho Vista, a guesthouse on petite Koh Mak island. And it's that sort of impassioned search for tranquillity, beauty and an off-the-grid feel — for the "old Thailand," one that's fast disappearing — that's luring entrepreneurs like Mr. Stewart and travelers to Koh Mak and its sister island of Koh Kut, an hour's boat ride away, in the northeastern Gulf of Thailand, not far from the Cambodian border.
The crowds of Thailand's big-name beach destinations — Phuket, Koh Samui, Koh Chang — are worlds away from these palm-tree fringed, sleepy gems, where you're more likely to encounter dogs and pigs sauntering along the road than traffic jams, and to have a stretch of sand and sea all to yourself, rather than elbow-to-elbow sun beds.
"The party people come for one night and leave, because there's nothing happening past 9 p.m.," said one German tourist, Anja Doebbelin, 33, who first visited the island in 2010 and returned in late 2013.
Of course, for a different sort of traveler, that sort of vibe makes it all the more appealing: That morning, Ms. Doebbelin had swum for an hour in crystal-clear water to the nearby island of Koh Rayang Nok, known for its snorkeling. A skate fish had been her sole companion, she said.
"These are the sorts of amazing things you can do here," she said while drinking a mango shake at Food Art Hut, an open-air restaurant under a thatched roof hung with tie-dyed lanterns. It's typical of Koh Mak's few businesses: small, family-run and low-key.
Koh Mak isn't just undiscovered by most tourists; that low-key quality is a deliberate decision on the part of the five families who own much of the island, descendants of Luang Prompakdii, an entrepreneur from a nearby province who purchased the six-square-mile island in the 19th century. Spooked by the unchecked development swallowing up Thailand's once-pristine beaches, they've banded together to keep resorts small and the natural habitat intact as much as possible.
Two dozen or so hotels dot the island's shores, ranging from simple, $15-a-night bungalows to boutique properties like the Plub Pla, whose contemporary, chic villas are linked by raised wooden walkways.
Warisara Ariyawongpreecha, a.k.a Leng, a Bangkok native with a broad smile, visited Koh Mak in 2008 while running a cooking school on popular Koh Chang, just 15 miles away. "Its most famous place is 'Lonely Beach,' but you're never lonely there," she said.
Seduced by Koh Mak's untarnished natural beauty and languor, she moved her business to the island, and now teaches the secrets of Thai cuisine at Koh Mak Smile, a waterfront cooking school where you can take in the sunset while enjoying the fruits of your labor.
Another appeal, Ms. Ariyawongpreecha, 41, said, is that the island is home to plenty of native residents intent on responsible development. "The Koh Mak families send their children to school in Bangkok, but once they get there, they don't like the pollution, the traffic, the noise," she said. "They come back and appreciate what we have here."
And it's easy to see why. A day out on two wheels along the island's single-lane road shows just how blissfully little there is to do beyond swimming, sunning or simply gazing at the coconut groves and fields of swaying pastel-pink grasses populated by white ibises. (Bicycles and motorbikes are easily rented; just watch for animals snoozing in the middle of the road.)
You might head out on a wooden dive-snorkel boat with Koh Mak Divers to see the schools of fish clad in psychedelic patterns that populate Koh Chang Marine National Park. You might stroll along the beach before a massage at the water's edge. Of course, you'll need to eat: At Koh Mak Seafood, you're required to eat barefoot while savoring the amazing fresh seafood and water views.
While Koh Mak's manageable size lends it an easygoing, personable charm, Koh Kut, just a quick boat ride to the south, is its wild, majestic, staggeringly beautiful counterpart. Combining the two in one trip is highly recommended.
At 40 square miles, Koh Kut is Thailand's fourth-largest island, but remains nearly untouched. It's reverie-inspiring attributes seem infinite: miles of undeveloped, white sand beaches hugging water the shade of turquoise that one dreams about on a cold winter day; tiered waterfalls hidden in a rain forest that's home to ancient banyan trees said to have spiritual powers; pristine mangroves populated by fireflies that put on a light show every night.
"The forest is clean, the water is clean. It is so pure here," said Chompoonuch Deeprawat, a former general manager at Bann Makok the Getaway, a collection of fishermen's homes turned into rustic-boutique accommodations by a group of friends from Bangkok's creative fields in 2010.
During a late morning, guests lazed on Bann Makok's wooden deck alongside a mangrove-lined river, swinging in hammocks, reading or heading out on kayaks for a break. "At night, the sky is full of stars, there are fireflies in the trees and stars in the water," Ms. Deeprawat said of the phosphorescent plankton common to the surrounding waters. "Everything sparkles. It's magical."
Koh Kut took its first, and, so far, biggest step onto the world travel scene in 2009 with the opening of the ultra-luxury Soneva Kiri resort, a brand known for taking up residence in the world's most pristine locales. Since then, just a handful of boutique properties have opened. There's talk of an airport, but development happens very slowly; the island currently doesn't have adequate electricity or fresh water to support mass tourism.
The expansive beach that stretches south of the Shantaa resort, for instance, has changed little since the 15-room family-run boutique property opened in 2005 on a coconut grove. And there's little reason to leave this little piece of paradise. The service is excellent and the bungalows stylish, with white clapboard walls, outdoor baths and large porches for stargazing. Seasoned therapists deliver Thai massages at open-air wooden pavilions, and excellent local cuisine, like a crab and tamarind pad thai, is served at the restaurant, also alfresco.
"We hope that Koh Kut will not become like other tourist islands," said Yongwut Prugsanuwong, one of Shantaa's owners. "We prefer gradual growth so the environment remains peaceful. We try to keep the pace at Shantaa as slow as possible, no matter how busy life outside becomes."
For now, Koh Kut's abundance of natural bounty is as remarkable as the lack of consumer options. There are few restaurants to speak of, no souvenir shops, no traffic and just one or two rickety bars where you can watch the sky go orange and pink while sipping a cold Chang beer. (There are no organized tours, so travelers looking to explore the interior should be prepared to do so on their own.)
Cassie and Mathew Bartley, London residents, spent four days honeymooning on Koh Kut. When they weren't sunning themselves at the beach or sipping sauvignon blanc at sunset, they toured the island by motorbike and kayak, stopping at deserted beaches and clear lagoons.
"There was absolutely no one around," Mr. Bartley said of the kayaking. "There's just something about all this space."
Rachael Birchenough, Soneva Kiri's activities manager, agreed. An Englishwoman, she first came to Koh Kut to conduct a six-month staff training. Three years later, she's still on the island, booking hotel guests on boat trips and visits to places like the Secret Waterfall, a three-tiered stunner recently made accessible by a new road.
"When I came to Koh Kut, I felt as though I'd discovered a secret," she said. "The job brought me here, but it's the island that's made me stay."