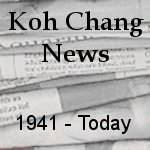 Islands get hooked up to national grid.
Bangkok Post, 4 August
Ko Kut and Koh Mak, two up-and-coming tourist destinations in this eastern province, will see a steady supply of electricity for the next three decades after they were hooked up to the national grid.
The Provincial Electricity Authority officially flipped the switch on an underwater power cable linking the two islands to the mainland on Tuesday.
PEA governor Sermsakul Klaikaew said the 50-kilometre cable, with maximum capacity of 22 megawatts, would be more than enough to feed power to residents on Koh Kut and Koh Mak for the next thr
The two islands in Koh Kut district have suffered increasing power outages partly due to more tourist resorts drawing visitors from crowded Koh Chang. They had to rely on backup generators to keep the lights on.
Dechathorn Chan-ob, the Tambon Koh Kut Administration Organisation chief, welcomed the additional wattage, telling the FM91 police radio station that the era of a blackouts would come to an end. The underwater cable will draw more investment to the island, he added.
e cable connects the two islands with the national grid on the mainland in Khlong Yai district. It was built with the 1.4-billion-baht state budget approved by the government in 2012.