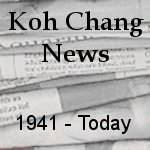 Shanghai Daily 12 August
Move over Phuket and Pattaya. Here comes Thailand's easternmost seaside resort of Koh Chang (Elephant Island) which has seen a record turnout of tourists over a long weekend that ended Tuesday, thanks to ferry boat services plying between Trat province and its tropical island lying in the upper part of the Gulf of Thailand.
In spite of rainy season, Koh Chang Island has become a favorite destination of as many as 10,000 visitors during the long weekend which began on Saturday.  Those tourists going to the island resort, about 400 kilometers east of the capital, have come from various parts of Thailand and from countries around the globe.
Some have come from as far as the northern and northeastern regions of the country while others have taken tour buses from Pattaya, Thailand's world-renowned and busiest seaside resort as well as from the capital.  Most visitors, Thai and foreigners alike, have spent a few days and nights on the island whose main attractions are its underwater coral reefs. Some tourists, particularly the Caucasians, prefer to lie on the white beach for sun-bathing.
Dolaporn Savadisarn, manager of Center Point Ferry Co., said on Tuesday that Koh Chang has drawn a record number of tourists largely due to a surging popularity among weekend travelers from Bangkok who desperately sought a new destination in place of Pattaya and other seaside spots along the eastern shores of the country, one that is geographically not too far from the capital.  Phuket and Koh Samui, Thailand's world-renowned southern island resorts are undoubtedly too far away for those who only have a few days of vacation.
"Koh Chang happens to be the right choice for those weekenders who have to go back to work in Bangkok or elsewhere. We've seen as many as 5,000 tourists coming over in a single day. That is a record turnout over here," Dolaporn said.  Because the island itself has good roads, an estimated 3,000 cars and pickup trucks were ferried between the mainland Trat province and the island on Monday, according to a ferry boat manager.  Several ferry boats operated from 6.00 a.m. until 6.00 p.m. to carry people and vehicles across the sea every day.  "Thai people love traveling in cars and pickup trucks and we provide the ferry boat services so they can drive their vehicles around on the island," Dolaporn said.  "The whole island looks like a floating city where cars and trucks busily ply the roads all day," she added.
Apart from those motorists, some other tourists rode in tour buses from Bangkok and others from Pattaya.  Coming from Pattaya were not only foreign tourists but Thai villagers from the northern and northeastern provinces who found their way to the island without passing through the heavily- congested roads in the capital.  Those who arrive by bus are given the privileges of getting transported across the water by a ferry boat without having to wait for a few hours such as those who come with their own cars and pickup trucks.
Some well-to-do tourists fly domestic airlines which shuttle daily between Suvarnabhumi International Airport in the eastern outskirts of the capital and Trat Airport just across the island.
+++
This article is a bit of hype with no real substance, seems to be written to plug the less popular of the two ferry companies that serve Koh Chang.   Last weekend was a long weekend holiday and the island was busier than usual.  However, it wasn't exceptionally busy for a long weekend.  In fact it was quieter than I'm sure many hotels would have hoped.   There were queues off the island but not as long as those at Thai New Year or May Day weekend holiday, for example.