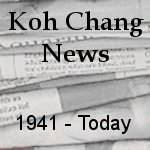 BANGKOK, 21 Oct (NNT) – The chairman of Trat Chamber of Commerce has revealed that tourist arrivals in the first 9 months of this year have dropped by more than half of last year's number.
Trat Chamber of Commerce Chairman Sumitr Keawkajee said that the province is seen a substantial decline in tourist visits due to the previous political crisis.
The chairman stated that, in 2013, 1.2 million tourists visited Trat Province, 30-40% of whom were foreign tourists. However, Mr.Sumitr reported that the number in the first 9 months of this year has dropped by more than half of last year's total.
The chairman urged relevant agencies to quickly stimulate local tourism and launch measures to regain tourist confidence in visiting Thailand.
+++
Before anyone panics and thinks that hotels and tourist businesses are about to go bust on Koh Chang – which they would if visitor numbers really did drop 50% overnight – they aren't.  Right now Koh Chang is busier than ever for late October. Real tourist numbers aren't down by 50%, although they probably are down – as arrivals at Suvarnabhumi Airport are down by around 10% Year on Year.
So where does the boss of the Chamber of Commerce get his figures from?  A clue might be in the number of illegal Cambodian workers who cross into Thailand.  Earlier this year there was a crackdown and a mass exodus.  Most workers returned within a couple of months when the Thai govt made it easier for them and employers to obtain the correct paperwork.  Prior to this any Cambodian who crossed the border and didn't have working papers, would be classed as a Tourist – no differentiation made between them and someone staying at a luxury resort on a 2 week holiday from Europe.  In addition many Cambodians just cross for the day to buy and sell goods in Thailand.  They are also classed as Tourists.