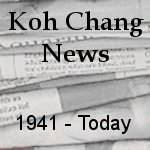 From National News Bureau of Thailand
TRAT, 16 April 2014
Travelers have started to travel back home to go to work tomorrow, and on Ko Chang, this has resulted in a major traffic jam and a long queue for the ferry.

From Pineapple Bay to Ko Chang National Park Headquarters, vehicles have been stuck on the road for kilometers since travelers have to queue their vehicles before taking the ferry back to the mainland.

Ko Chang Sheriff Mr. Peera Aiamsoontorn has gathered volunteer officers and police officers to help facilitate the traffic on the road, while advising everyone about the traffic. Many of the tourists have checked out from their hotel to return to hometown at the same time, creating a serious traffic snarl. The ferry terminal on the island normally has limited space and the space for the queue at ferry terminal also is limited, and it has spilled out onto the road.

Meanwhile, some travelers are trying to cut the queue, defying officials who have warned the travelers to wait in line and follow the rules. To try to solve the overall problem in the timely manner, officials have coordinated with ferry operators to increase the number of vessels to deal with the traffic.
( I know the English is awful. What's more worrying is that this is after the article has been rewritten by a native English speaker, there's a credit,which is probably the wrong word to use, on the original story, for 'Rewriter : Joel Gershon' ).