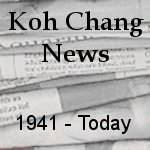 ( A nice travelogue from The nation newspaper. I often advise people who are driving down here to take the coast road from Klaeng to Chantaburi. It's a nice trip and you'll see areas very few foreign tourists visit. You can also keep going down to the beaches on the Trat coast near the Cambodian border.)
The Nation, 23 April 2014
For your next holiday, load up the car and spend time away from the tourists in Rayong, Chanthaburi and Trat
Explore the mysterious marsh of Klaeng, watch the sea eagle hunting for fish in Khlung, sip Angkor Beer in Had Lek, shop at a marketplace at the Thai-Cambodian border and snorkel in the clear waters off Koh Mak. If that sounds like a perfect holiday, that's because it is and even if you have to skip the beer, there's no better way to discover the spirit of Thailand's east than taking a road trip.
From Rayong to Chanthaburi to Trat provinces, all you need is time, wheels and friends or family to take a trip you'll never forget.
We thought about making the trip in true 1960's hippie style complete with a psychedelic VW campervan and a bong. Sadly, though, we couldn't find an old VW and the bong was out of question. We're oceans apart from Uruguay.
Our travel problems were solved with the arrival of two brand-new Toyota vans and drivers for 15 of us. The Toyota might not turn heads but it is comfortable and because we have the rare luxury of being driven, we can indulge in a beer for lunch.
"We're going to take the scenic route along eastern coastline", says Fon, the friend who is making this trip happen as we leave Bangkok on Highway 7 for Chon Buri.
"We'll visit the beaches and islands in Rayong, Chanthaburi and Trat, though we'll do it backwards and start from Trat."
"Just get us out of Bangkok," I reply as my fellow travellers nod in agreement.
The road is good and the journey is quick so by lunchtime we are in Trat
Tucked away in the Thailand's far east, Trat was occupied by French Indochina in 1904. Three years later, the French decided Trat was too difficult to rule and on March 23, 1907, returned it to Thailand in exchange for Battambang, Siem Reap and Sisophon. The French didn't say how difficult Trat was but I think I figured out their problem while having lunch with the locals. Trat folk are curt and certainly don't go out to make friends with strangers. They're funny too in the way they speak, ending every sentence with a "hee" sound.
Today, of course, Trat is famous as the kick off point for Koh Chang, Koh Kood and 50 more islands, which draw holidaymakers from around the world for snorkelling, spas, sun and sand. Beyond the tourism industry and hospitality management, however, this small coastal province is charming in itself.
We roll into Ratchakarun Beach late afternoon. All around us is the suggestion of a magnificent beach – long, curvy, quiet and hawker-free. This is part of Mai Rut, a quiet coastal community made up of fishing villages, small lodges and isolated beaches. The Thai Red Cross Society had a centre here during the 1970s, providing shelters and health care for Cambodian refugees. That centre has now been transformed into an environmental study and training centre, while the shelters have made way for seaside lodges.
"The lodge is very cheap at Bt700 per night and the beach is long and almost empty," says Boy, one of my travel companions
I nod, already picturing my solitary morning walk.
We keep going East to Trat's farthest outpost, the Thailand-Cambodia border. The border market is packed with stalls selling fake football jerseys and handbags, dried seafood, bronze sculpture and piles of cheesy electronic stuff made in China. I grab a few cans of Angkor Beer, find a nice place to relax near the checkpoint and soak up the frontier atmosphere.
Thirty years ago, tens of thousand of Cambodians braved the heavily mined border to cross into Thailand through the mountain range. If they made it, they got food and shelter in Trat. Now, of course, they simply walk through the checkpoint and make the most of it, pulling carts full of goods back and forth between the two countries.
On the first night we bunk down at the seaside lodge – Meet the Sea Resort – and while I don't make the solitary walk, I am happy to jump into a speedboat the next morning to take in the islands.
Trat has 52 islands, both big and small, and you shouldn't leave the province without indulging in some island hopping. Our speedboat reaches Koh Mak in the late afternoon and we make base at The Cinnamon Art Resort and Spa. We plunge into deep blue sea around Koh Rang, make peace with the spiny sea urchin, and feed the schools of colourful fish.
On the third day, we leave the island and get back on the road again, weaving our way up from Trat to Chanthaburi along the old Sukhumvit Road.
We stop over at Thason, where the Weru River flows into the sea, and watch in wonder at flocks of Brahminy Kite, also known as the Red-backed sea eagle, soar above us. While fairly common to Thailand's coastal areas, this is probably their largest nesting area, with hundreds of them hovering together over the Weru estuary feeding greedily on the dead fish given to them by local fishermen.
We rent a fisherman's boat to take us to the edge of the estuary and spend time staring at the raptors, who soar above our heads in a scene that's reminiscent of Alfred Hitchcock's classic horror "The Birds". We try to take National Geographic-inspired shots with our medium zoom lenses but the raptors look like mosquitoes so majestic is their flight.
As we leave Chanthaburi at Laem Sing, we follow the Chon-Chan route to Rayong province. This scenic coastal route, which is bound together by several roads from Sattahip in Chon Buri to Khlung in Chanthaburi Khlung, offers a panoramic view of the eastern coast. The road weaves it way through such little known beaches as Klung Wiman, Laem Son and Ao Khai to the more popular Laem Mae Phim.
At Rayong we stop at Prasea estuary in Klaeng district. The 100-year-old riverside community was once a thriving riverside trading area. Today the old district draws the visitors for its beach, a retired gunship and the nature trail that weaves through the mangrove forest.
A short ride from Prasea is Rayong Botanic Garden – a little known marsh spread out over 1,500 acres. Here, the car gives way to a slow boat as we explore the swampy trail. Quiet and wonderfully peaceful, the wetland is an ideal escape from the hectic bars and bustling beaches.
And it is here that our 400-kilometre road trip comes to an end. We sit quietly in the boat watching the sun set over the wetlands and realise with mixed feelings that in a couple of hours, we'll be back in Bangkok.