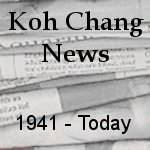 Bangkok Post, 27 May 2014
A military ranger was shot dead yesterday during a raid in Trat.
The shooting occurred as security officials were hunting for those responsible for a deadly attack on the People's Democratic Reform Committee (PDRC) gathering in the district in February.  Two suspects were detained though authorities have not revealed their identities.
A gun and grenade attack at the PDRC rally site in Khao Saming district on Feb 22 left two people dead and at least 35 injured.  Acting on a tip-off that three of those involved in the attack were holed up in a house in tambon Praneet, a combined force of marines and military rangers took up position.
Two suspects were apprehended first, while another hid in an orchard next to the house.  As security forces were fanning out in the area, the suspect who was hiding behind a banana trees shot and killed ranger Wuthinan Sriprasit, 25, about 100 metres from the house, before fleeing.
Chanthaburi-Trat Border Defence Command deputy chief Nopporn Wuthironnarit said army intelligence suggested the suspects were linked to the PDRC rally attack in Khao Saming district.  A military outfit, a pocket knife, a scarf with the message "Democracy Defence" emblazoned on it, and a red headband were found in the house.  Deputy national police chief Ek Angsananon said police are stepping up their investigation into possible links between the Trat attack and the recent seizures of war weapons.
Pol Gen Ek said an M3 machine gun confiscated at a rented room in Samut Sakhon's Krathum Baen district on Wednesday was used in the attack at the Khao Saming rally site. The gun was test-fired, and a link found, he said.  The M3 was among a large amount of weapons and explosives seized in the room rented by Chanthana Warakornskulkij, 44.   Ms Chanthana told police she loved collecting weapons and she had bought them over time, mostly from border areas in Tak and Ratchaburi provinces. She denied being involved in causing violence.