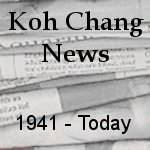 27 February Bangkok Post
Its white sand and blue waters are a selling point, but travel to the eastern side of Koh Chang for an entirely different experience
You may have visited Koh Chang before and might, like me, have always turned right, towards the west, after disembarking the ferry. Of course, after five hours on the road from Bangkok to Trat and a 30-minute ferry ride from the mainland to the island, you surely want to pay a visit to the white sand beaches and crystal clear water.
But this time, I did things a little differently. My car turned toward the east side of the island, which has a quieter reputation.
This side of the island does not have a beach, and pushes aside resorts, pubs and beachfront bars in favour of local communities. The highlights here are 650 rai of mangrove forest and fishing villages.
It's about 20km down a two-way concrete road from the ferry to the Salak Khok community.
An activity you may like is a cruise along a brackish waterway, bordered on both sides by a mangrove forest. The service is provided by the Salak Khok Community Tour Club with support from the Designated Areas for Sustainable Tourism Administration (Dasta). The club offers paddle boats and kayaks for tourists. Locals call the paddle boats rua mard, a specific name for a dugout boat with a rounded bottom made from the takien (iron wood) tree. The boats were originally built in Ayutthaya period for people to commute along rivers and canals.
If you want to take rua mard cruise, don't worry about paddling yourself, as the tourism club provides a paddler for each boat, which seats a maximum of four passengers, who sit in two row seats put on either side of a rectangular table. The boat normally takes passengers to the mouth Salak Khok Bay. During the one-hour trip, you will be slowly paddled along, enjoying the view of fishing villages, birds and the seemingly endless green leaves of mangrove trees.
The tourism club also offers a choice of a set menu and boat decoration for a romantic dinner for two to celebrate a special occasion.
The next activity recommended by Dasta's local office is a visit to Wat Salak Phet, which was built during the reign of King Rama V on his visit to the island.
The temple is located on an 11 rai plot of land in the Salak Phet community. It houses a decent museum dedicated to King Rama V, the highlight of which is his sceptre, which he personally gave to Luang Salak Phet as a token of gratitude to their friendship.
"Luang Salak Phet is a commoner who twice took King Rama V around the village," said Wisut Thongdee, who came from Trat to paint a mural in the temple's new prayer hall. He also helps arrange exhibit items in the museum.
"However, at that time Luang Salak Phet and other locals did not realise it was the King. They thought he was a wealthy visitor. Luang Salak Phet, who had more curiosity than others, volunteered to tour the visitor around the village and even suggested he bathe in a canal."
When people knew later that the wealthy man was indeed King Rama V, they were shocked — especially his guide. The King appreciated his sincerity and appointed him Luang Salak Phet, Wisut said.
Also displayed in the museum are old Buddha images found in the temple and old porcelain dating back to the early Rattanakosin period.
There is a trail about a kilometre away from the temple which leads into a mangrove forest and ends at the sea. The trail seems abandoned, as evidenced by an empty office located at its entrance, but the walkway is still in a good condition. Hiking the trail takes about 30 minutes.
Last is a local shop which sells handmade coconut products, located in​ Tambon Koh Chang Tai. This shop is a community enterprise founded a decade ago by Namkhang Kusoljit, a local, who started the business with 2,000 bah. Today she runs a large shop with nearly 20 employees who create products from coconut shells, including reading lamps, tissue holders, pen holders, purses — even bikini tops. The products are also distributed to several outlets in hotels.
Koh Chang does not only have sun, sand and sea, but also communities and nature in which you can relax. It is well worth a weekend visit.