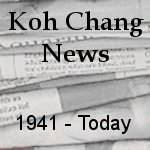 The Nation,  04 September 2014
Thailand's first "low carbon" destination, Koh Mak in Trat province, was launched yesterday in a bid to enhance "quality" tourism and attract niche markets.
The Designated Areas for Sustainable Tourism Administration (Dasta) and the Institute for Small and Medium Enterprises Development (ISMED) yesterday introduced Koh Mak, an island near Koh Chang off the east coast, as a special area for sustainable tourism development.
Nalikatibhag Sangsnit, director-general of Dasta, said Koh Mak was a niche tourism market, especially for those who love natural sites. To lower emissions of carbon dioxide and pollutants on the island, locals are urged to use alternatives to petroleum-based fuels, implement water and waste management, and preserve local activities and traditional ways of life.
For tourists, the island is now offering environment-friendly activities such as cycling, kayaking and sailing. Moreover, business operators are now using fresh groceries and avoiding all polluting products.
Dasta and the ISMED took years to reposition and develop the island and are now kicking off the intensive job of building its brand image. They will promote the island for both local and international markets. By next year, they hope that 50 per cent of visitors to Koh Mak will be aware of its new image, and that perception should rise to 90 per cent within three years.
"Local people are our first target for knowing the new image of Koh Mak. We are going to work with the Thai Eco Tourism and Adventure Travel Association, or TEATA, to promote adventure activities. Then we will move on to promote this island to foreigners, and we hope this destination will become a new attraction for the country," Nalikatibhag said.
He said this project followed the development of Koh Chang as a quality destination 10 years ago.
Last year, Koh Mak received 130,569 visitors, up from 127,528 in 2012, or 2.3-per-cent growth. Most were Thais. Tourism last year generated Bt851 million in revenue for the island, up by 8.2 per cent from Bt787 million in 2012.
Regarding to a report on merging Dasta with the Tourism and Sports Ministry, Nalikatibhag
said his agency was a public organisation and worked independently, so it should not be combined with any other body, especially the ministry.
"Dasta is focusing on building and developing attractions, not running marketing or promotion work," he said, claiming the agency was also efficient.