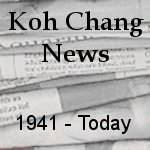 Bangkok Post 10 April 2014
Although hard to get to, Trat's second-largest island with its idyllic forests, beaches and waterfalls is well worth the trip
The journey from Bangkok takes around seven hours, including a 90 minute speedboat ride to the island. Koh Kut is a getaway destination where you can dip in crystal clear waters, sunbathe on long beaches or explore the waterfalls in its lush rainforest.
At 105km², it's the second-largest island in Trat after Koh Chang. While Koh Chang is crowded with revellers, pubs and bars, Koh Kut is almost the exact opposite. Some hotels might have their own beach bars, but in general the island is quiet.
Historical records show that people have lived in Koh Kut for more than two centuries, with the majority having worked in the fishing industry.  More groups of people began to migrate to the island in 1904 when Koh Kong (formerly Patchan Khiri Khet) became part of Cambodia during the French colonial period.  The population on the island is around a few thousand people. They earn their living by fishing and farming, with rubber trees, fruit orchards and coconut trees.
"We have a supply of fresh water all year round thanks to our waterfalls, rivers and sufficient rain water,"  said Koh Kut Tourism Club president Subin Boondaeng.  Although the island is remote, it has been visited by several royal family members. King Rama V, for example, who visited Koh Chang 12 times, also travelled to Koh Kut and its nearby islands twice, in 1887 and 1907. King Rama VI also visited the island in 1911 and King Rama VII made a royal visit in 1927.  "In the past, it was a bit difficult for visitors to travel directly to the island. Normally, people stayed in Koh Chang before visiting Koh Kut. This was because a direct boat ride from the mainland to Koh Kut took at least seven hours," said Mr Subin.
But the more remote an island is, the more appealing is the challenge for visitors in search of solitude. When visitors started coming to the island, so too did investors. They started building bungalows to rent out and made it more convenient for people. In just two decades the island now has more than 30 resorts, most of which are middle to high-end properties.
"When I first visited my land in Ao Phrao around 20 years ago, the island was lined with coconut trees. Day by day more parts of the island began to get converted to accommodation and more roads were built," recounts Mr Subin.  The number of tourists gradually increased and started to change from Thais to Westerners. True to form, the majority of guests in his resort in Ao Phrao today are Russians.
There is no public transportation on the island and locals tend to commute with their own vehicles, mostly motorcycles. There are two schools, a state-run hospital and a petrol station. There are local convenient stores and markets, but no ATM machine. If you want to explore the island, you may walk, hire a motorbike or rent a pickup truck (or songthaew) from your resort. Bicycles for rent are harder to find. There is a main two-lane hilly concrete road linking the northern part to the south, but not to the southern tip, which is a restricted area for the navy station.
For those who love outdoor activities, some visitors take a day trip to snorkel around nearby islands such as Koh Rang and its vicinities while others may kayak along the coastal area or on Khlong Chao waterway. An alternative is to trek through the forest to the Khlong Chao and Huang Nam Khieo waterfalls.
Travelling to Koh Kut might make you fatigued, but it is well worth the journey. You may well need at least three days or perhaps more to enjoy its sand, sunshine and sea.  If you're looking for a relaxing beach holiday with a quiet atmosphere, Koh Kut definitely fits the bill.