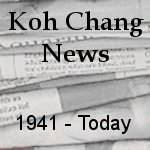 This news has been all over Thai Facebook pages and also there was a 5 minute segment with report and analysis on the breakfast news yesterday. That's what happens when a monk gets even a little bit frisky with a female. The monk in the photos has been at the temple in Klong Prao for a long time. He's well known. So , ladies, if you are tempted to hug a monk on holiday – don't go posting the photos on Facebook. it will cause, what the Thai media like to call, a 'veritable shit storm of epic proportions'.
Coconuts Bangkok – 24 November
A friendly monk from a Koh Chang temple will be investigated by religious authorities for getting a little too friendly with female tourists. Photos circulating online showing Phra Supoj of Khlong Prao Temple grappling two foreign babes upset locals on the island, who consider them obscene.
Koh Chang Sheriff Peera Iamsoonthorn said he's ordered an investigation by the temple's committee as the monk in question has departed on a temple visit in Nakhon Sawan province. Village headman Nitikorn Kawirawan said he was upset by the leaked photos and called upon Phra Supoj to tell his side of the story. The monk claimed the tourists, Russian and Cambodian, asked him for a couple photo and hugged him, assuming they did not know it was a taboo.
Phra Supoj claimed the tourists visited the temple on Nov. 13 to make merit, and he guided them in the ceremony. As in the other regular cases of monk scandals, Phra Supoj may face verbal discipline, Thairath and Khaosod newspapers reported.