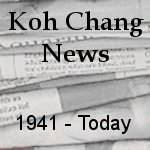 Bangkok Post 7 September 2014
The island district of Koh Chang in Trat province in the East was hit by flash floods that followed a heavy downpour on Sunday night after continuous rain over the past two days, causing damage to houses and public utilities.
One villager was missing, reports said.
The heavy rain started about 9pm and deluged the two tambons – Koh Chang and Koh Chang Tai – of the island district on Sunday night.
In tambon Koh Chang Tai, all five villages were heavily flooded and the residents were unable to leave their houses. All roads were impassable to vehicles.
Hardest hit was Than Mayom village. At 11pm, a flash flood from Than Mayom Waterfall swept away living quarters owned by the island's ice factory. Three men who lived there were found to be missing.
Forestry officials called for help from the district's search and rescue unit and two of the missing men were found and taken to Koh Chang Hospital for treatment. The third was still missing.
In tambon Koh Chang on the other side of the island, a flash flood swept through Khlong Son village and inundated houses, roads and Ban Khlong Son School, leaving them swamped with 40-50cm deep water.
At Hat Sai Khao village, the road passing KC Grand Koh Chang Hotel, a 7-Eleven convenience store and Ban Pu Koh Chang Hotel was about 60cm under water. Many cars had stalled in the water and been abandoned.
Roads and houses at Khlong Phrao village were also flooded. Strong water currents cut the road at Khlong Phlu bridge, making it impassable.
A road running through Kai Bae village was under nearly 1m of water.
Peera Iamsunthorn, the Koh Chang district chief, said most of the roads connecting tambons Koh Chang and Koh Chang Tai had been damaged.
The total damage had yet to be assessed, he said.