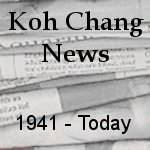 Bangkok Post 25 November, 2014
The company plans to develop six new condo buildings worth a combined 1 billion baht and a 350-million-baht hotel on Koh Chang, close to the Cambodian border and part of Trat province.
Chief executive Roland Steiner said political crises in Thailand including martial law had affected residential demand in resort destinations among foreigners, as they did not feel confident about the situation.
"Foreign tourist arrivals to Koh Chang remain positive, and it's a good rental property market," he said. "But foreign investors and buyers have stopped buying there, as they are not confident about when an elected government will be established."
The company's project on Koh Chang, named Siam Royal View, is located on a 300-rai site at Klong Son Bay in the north of the island. It is the largest property project on Koh Chang, starting development in 2006 and with a total value of 3.5 billion baht.
The first phase includes a nine-hole golf course and a marina, now completed, and 270 individual land plots for sale. Of the plots, 120 have been sold, mainly to Europeans, particularly Swedish, Swiss, Germans, Britons, Dutch and Russians. The concept was to sell a vacant plot and build a house to the customer's orders. That strategy meant the company did not need a large project loan for residential development but instead used only a small amount for infrastructure and facilities development.
Mr Steiner said some customers rented out their villas that had more than one bedroom, as these are popular with foreign tourists visiting as a large family. Other owners who spent more on their units, fully furnishing them and undertaking aggressive marketing on their own, received a high yield of 10-12% a year, with a rental rate of 50,000 baht a week during the high season and 35,000 baht in the low season.
Another project in the first phase is the 14-unit three-storey condominium building worth 150 million baht developed from 2011-12 and sold out.
"Sales were sluggish with political problems this year, so we'll shift to Thai buyers," said Mr Steiner, 48, who has lived on Koh Chang since 2005. He said the island was unpopular among Thai tourists, as ferry service was unpredictable, with long waits during the high season. To market to Thai buyers, the company plans to build a high-speed boat port on 21 rai on the mainland near the public ferry service port. "Our service will take only 25 minutes from Trat town to Koh Chang compared with 45 minutes by ferry excluding waiting time," said Mr Steiner.
The new phases at Siam Royal View will include six new three-storey condo buildings with 14 units each for a total of 84 units sized from 70-120 square metres and priced from 90,000 baht a sq m. There will also be a 70-room hotel costing 350 million Baht. The company will seek Thais to co-invest in the new condo project and hotel, they are less bothered by uncertain Thai politics, Mr Steiner said. If he cannot find investors, the company will develop and launch the condo project.
However, the company will wait on all projects until an elected government is formed, as all the developments require huge investments. Foreign buyers also need more certainty about the Thai political situation.