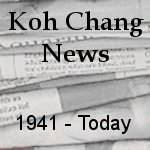 Of all the possible targets, Koh Chang's beach vendors are not one of the problems facing the island.  Compared to vendors on other islands or beach resorts, they're very laid back and don't hassle visitors. In 10 years of running this site I haven't had one email from anyone complaining about them.  I've had lots of emails about other things that visitors would like to see fixed.  But nothing abut the guys who sell stuff on the beaches. 
So I guess someone has an ulterior motive.  Or has been pressured to do something and just needs an easy target to crackdown on.  
Bangkok Post, 24 December
Koh Chang officials plan to launch a new year crackdown on beachfront transportation operators and motorcycle-rental agents in order to reclaim public property, ensure tourists aren't cheated and to preserve the environment
Prathan Surekitbavorn, deputy governor of Trat, leads officials on a mission to discuss ways to regulate traders on Koh Chang. Following a survey of the beach, Trat deputy governor Prathan Surekitbavorn said that starting early next year, Koh Chang district and municipal officials will strictly regulate traders and services aimed at tourists.
The province's damrongdhama (complaints) centre earlier received complaints about public transport, polluted water released into the sea and vendors blocking traffic lanes with vehicles, rental motorcycles and furniture.
English-language signage will be placed at the ferry pier to provide information on public transportation services available on Koh Chang.
Mr Prathan said the province would ask police and the military to assist with enforcing new rules on the traders, particularly in regards to parking lots for public buses (songthaews) and motorcycles for rent.
After implementation of the new regulations, about 800m of the beachfront would be left open for tourists.
Sanya Kerdmanee, mayor of Koh Chang tambon municipality, said the authority met with vendors twice to ask for cooperation in tidying up public spaces along the beach.  The municipality now offers three parking lots per vendor for rental bikes. It has a total of 105 lots available and currently there are 31 operators registered with the municipality.  The municipality prohibits the vendors from reserving parking spaces by placing chairs or cars in lots allocated for motorcycles, but the prohibition routinely is ignored.
Mr Sanya said the public songthaew and van operators also are required to supervise vehicles under their control and not overcharge on fares. Clear signs will be posted to inform passengers of the correct rates.  English-language signage also will be placed at the ferry pier to provide information on public transport services available on the island.
The authority has also inspected the drainage systems in tourist areas near the beach and found that some traders had poured polluted water and other liquids water into public drains.  Koh Change authorities will publicise its plans during the final week of 2014 to allow vendors to adjust to the coming restrictions.  "Koh Chang is a famous tourist destination known globally, so it is necessary to regulate the traders before the situation gets out of control," Mr Sanya said.