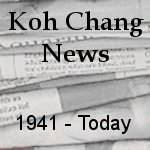 The Independent 8 November 2014
The island of Koh Chang is a short boat journey into the Gulf of Thailand, an hour from the mainland and close to the border with Cambodia.
Its unobtrusive tourist strips, clear water beaches, dense forest and gigantic waterfalls are particularly popular with German, Dutch, and Russian tourists. The national park, which covers most of the rocky island, also contains coral reefs. Great for snorkellers and scuba divers, these teem with tropical fish and sea anemones.
But this Finding Nemo world was the scene of one of the Second World War's lesser-known battles, between Thailand and Vichy France.
The French feared Thailand would take advantage of their weakened state to grab a chunk out of neighbouring French-Indochina: a border dispute had been rumbling for some time.After France pre-emptively bombed the Thai mainland, a naval and air battle began around the island. The Royal Thai Navy lost that battle, and 37 men. But the Franco-Thai war was brought to an end by Japan, which coerced France into ceding land in north-west Cambodia to Thailand.
Which is something to think about when you're sipping a Mai Tai and watching the sun set on an unspoiled beach.