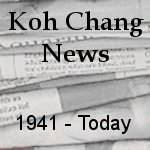 Pattaya Mail, 8 September
Heavy rains last night caused devastating runoff in two sub-districts of Ko Chang, a popular tourist destination in this province. Five villages in Ko Chang Tai sub-district are cut off from the outside as deep flooding impedes residents from leaving their homes.
The heaviest impact was in Ban Than Mayom village. A huge runoff from Than Mayom waterfall wiped out many houses. Three workers of an ice factory were carried away by the surging waters. Two were rescued, but searchers continue looking for the third.
In Ko Chang sub-district on the other side of the island, runoff gushed through Khlong Son canal flooding houses, roads and Ban Khlong Son School with 40-50 centimeters of water. Many vehicles broke down. In Ban Khlong Phrao village, a bridge approach collapsed and the bridge became impassable. Runoff gushed through Khlong Phlu waterfall, and flooded many houses. A motorcyclist was washed away and went missing. In Ban Kai Bae village, a bridge is about one metre underwater and is impassable. Persistent rains feed runoff from a mountain.
Koh Chang district chief Peera Iamsunthorn said the flooding was critical as roads were impassable and many areas in Ko Chang Tai sub-district were cut off.