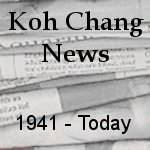 The Nation, 23 February
The spokesman of the People's Democratic Reform Committee in Trat Sunday believe that the attackers who lobbed grenades and fired at a PDRC rally in the northern province are not local people.
Trat PDRC spokesman Suwicharn Suwannakha said all local people know and love each other well and were not opposed to the rally.
Thirty-nine people were injured in the attack against the rally in Trat's Khao Saming district at about 9.30pm.
"All local people know each other. We expected no one to cause disturbance. We have no people from the other side here. We're confident that the rally would have been safe," Suwicharn said.
Bangkok Post, 23 February
Gunmen shot at the anti-government protest stage in Khao Saming district, Trat province, at 9.30pm on Saturday. Coming in two pickup trucks, they shot and threw grenades into the crowd in Yingchaoren market
According to the latest reports as of 1am Sunday, two were dead and 41 wounded, four critically. Among the gravely injured was an eight-year-old girl, who took a shot in the head.
Photos from Daily News – Thai newspaper