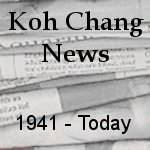 Bangkok Post 9 September 2014
TRAT – Work gangs were cleaning up on Koh Chang, repairing bridges and washed-out roads on Monday, after the resort island was hit by flash floods following torrential rain on Sunday night.
Tourists and local residents on Koh Chang in Trat province use a temporary foot crossing at the washed-out Khlong Phlu bridge  on Monday after it was hit by flash flooding overnight . (Photo by Jakkrit Waewkraihong)
Local government crews, helped by volunteers, were working to clear the damage and make repairs, Wanrung Kanoonkul, kamnan of tambon Koh Chang in Koh Chang district of Trat province, said on Monday.
The hardest hit areas were Hat Sai Khao and Than Mayom villages. Ban Hat Sai Khao was still being battered by flowing water up to 30 centimetres deep, after it rose to more than one metre on Sunday night, he said.
The flooding was caused by continuous rain on on saturday and Sunday, compounded by a downpour overnight.
One Cambodian worker was confirmed to have died in the flood, and 50 houses, a few resorts, one car and several bridges were damaged, Wanrung Kanoonkul, kamnan of tambon Koh Chang in Koh Chang district of Trat province said on Monday. The dead man was identified only as Chieng, a 40-year-old Cambodian.
The Chao Phraya River Dam in Sapphaya district of Chai Nat province releases more water downstream on Monday. (Photo by Chudet Seehawong)
"What happened last night was among the worst on Koh Chang in memory," he said.
The damaged bridges made it difficult for tourists and locals leaving for the mainland, as they had to walk over  makeshift bridges, often very narrow,  because repairs were still underway.
Koh Chaing district chief Peera Iamsunthorn said he hoped the bridges could be reopened for vehicles later on Monday.
After two days of rain, the critical downpour started about 9pm on Sunday, overwhelming two tambons – Koh Chang and Koh Chang Tai – of the island district.
In tambon Koh Chang Tai, all five villages were heavily flooded and the residents were unable to leave their houses. All roads were impassable to vehicles.
In tambon Koh Chang on the other side of the island, a flash flood swept through Khlong Son village and inundated houses, roads and Ban Khlong Son School, leaving them swamped with 40-50cm deep water.
At Hat Sai Khao village, the road passing KC Grand Koh Chang Hotel, a 7-Eleven convenience store and Ban Pu Koh Chang Hotel was about 60cm under water. Many cars had stalled in the water and been abandoned.
Roads and houses at Khlong Phrao village were also flooded. Strong water currents cut the road at Khlong Phlu bridge, making it impassable.
A road running through Kai Bae village was under nearly 1m of water.
Mr Peera said the situation on the island was improving but he was concerned there could be more floods if rain continued to blanket the island.
The Meteorological Department warned people in eastern provinces and the Andaman coast of heavy rains at least until Wednesday. Scattered rain would fall in most parts of the country, the weather bureau added.
The country has been hit by heavy rains since Aug 26, which have flooded 29 provinces. The Disaster Prevention and Mitigation Department said 14 districts in Sukhothai, Chiang Rai, Tak, Nakhon Sawan and Phichit provinces were still disaster areas.
The situation in Sukhothai and Chiang Rai remained serious, department chief Chatchai Promlert said.
The Royal Irrigation Department warned residents along the Chao Phraya River in Pa Mok district of Ang Thong province, and Bang Ban and Phak  Hai district of Ayutthaya to prepare for more floods, because the Chao Phraya dam in Chai Nat province is releasing more water downstream.
Darongkorn Somton, chief of the irrigation office at the dam, said water was being released at 1,050 cubic metres per second on Monday, up from 998 cubic metres on Sunday, and this would affect some areas in Ang Thong and Ayutthaya.
Mr Darongkorn said the situation should return to normal by Wednesday.