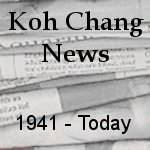 Bangkok Post, 8 May 2014
Mu Koh Chang National Park will charge entrance fees to visitors who snorkel or scuba dive around Koh Rang, in Trat, beginning in June
Koh Rang is rich in coral and other marine life, and is one of 40 islands in the national park, which is about 8km off the coast of Trat province.
Park chief Veera Khunchairak said there many tour operators were taking tourists to snorkel around Koh Rang. The entrance fees would help screen out tourists who do not care for the coral reef, he added.
The national park has attempted to collect entrance fees to Koh Rang since the end of last year, a move widely protested by local tour agencies and diving tour operators, who said the park's short notice meant operators could not adjust their prices because tour programmes to Koh Rang were sold out two months in advance.
The date for entrance fees was postponed from Dec 1 2013 to June 1 this year. The entrance fees are set for individual visitors and boats. Tickets for foreigners are 200 Baht for an adult and 100 Baht for a child aged three to 14 years.
Thais will be charged 40 Baht for an adult and 20 Baht for a child. For boats, the entrance fees are 20 baht, 100 baht or 500 baht, depending on size.
The park expects to earn at least 20 Million Baht from the fees in the next year.