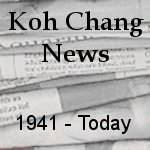 1 July 2014 (NNT)
A Chinese tourist reportedly drowned near Koh Chang in Trat after he was swept away by strong waves. 

Local rescue teams have retrieved the body of a 19-year-old Chinese tourist identified as Guo Jiachang from the southern part of the island. 

Witnesses said Mr Jiachang had ignored warnings against swimming on the beach and disappeared shortly after entering the water. 

His death marked the second in two weeks after a Thai visitor drowned near Sai Kao beach. 

According to Koh Chang mayor Sanya Kerdmanee, the island's southern tip is considered a risky area that has claimed lives of tourists over the years. More lifeguards will be stationed at the area around the clock. Red flags will also be erected near wave-prone areas. 

Five tourists were killed last year near Koh Chang as the island's waves can become high during the wet season.