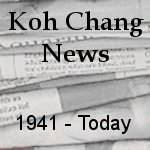 TRAT, 19 Oct 2014 (NNT) – Officials in Koh Chang District, Trat Province remove 8 vending booths encroaching on Baan Chaichet Village road, reclaiming the space for public use.
Joining in the operation were District Chief Peera Iamsunthon and Trat Navy Chief Lieutenant Manot Boontube, and related officials, after the authorities had been informed that vendors built stalls intruding into the local road, a clear violation of the use of public space.
The district chief stated that the operation followed several complaints made to the province's Damrongtham Center. He said that the vendors were earlier given a warning to remove their stalls within 10 days; however, they ignored the notification, thus leading to the operation.
+++
It will be interesting to see what happens – if the traders just ignore the army and then will the army step in and tear down the small restaurants.