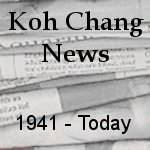 The Nation,  30 April 2014
American detained for stealing transport van
An American tourist was arrested in Trat's Muang district on Monday night for allegedly stealing a Bangkok-Trat public transport van so he could catch a border bus to Cambodia.
The suspect, identified as 40-year-old Karta Singh Harta, was apprehended along with the stolen van at the Khao Lan checkpoint in tambon Laem Klad after van driver Surasak Choman, 37, alerted police, Trat Muang Police Station's on-duty officer Pol Captain Jakkapan Muankaew said.
Surasak told police that Singh had travelled with him from Bangkok to Trat's Muang district and then tried to get him to drop him off at the Hat Lek border because he had business to attend to in Cambodia's Koh Kong province.
The van driver said he refused to drive on to Hat Lek as it was beyond his concession route and offered to get the tourist a ride on a local transport truck. However, the American insisted on being in the van.
When Surasak stopped at a petrol station for a toilet run in downtown Trat, the tourist took over and sped away.
Singh later told police that Surasak had left the capital later than scheduled, which is why he missed the bus to Hat Lek. He added that he was also afraid because Surasak was armed with a knife, which is why he chose to speed away. He said he did not intend to steal the van, but just wanted to drive to the police station, but since he did not know how to get here he decided to drive to the Khao Lan checkpoint instead.
Police were not convinced and decided to charge Singh with steal another person's property.