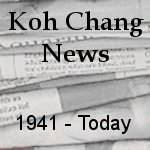 Bangkok Post – 10 April 2013
Holidaymakers – both locals and foreigners – must wear safety helmets when riding rented motorcycles to reduce the nuber of fatalities and serious injuries from accidents, Trat deputy governor Payakkapan Pokaew warned visitors to the tourist island of Koh Chang on Wednesday.
Koh Chang rental shops owners confirmed that they provided helmets for all their customers, but the customers themselves refused to wear them, he said.   Mr Payakkapan said that most of the injuries suffered by visitors to Koh Chang – a leading destination for tourists – were from road accidents. The majority of the injuries occurred because bikers were not wearing crash helmets.
People renting out motorbikes must insist that their customers wear the safety helmets whever they get onthe bike, he said. Riding without the protection of a helmet means even apparently small injuries can be fatal.
If motorbike rental operators did not take the warning seriously, as it is required by law, they could also be held to account for the injuries to their customers.  The deputy governor said he had ordered all provincial police in the area to strictly enforce the law during the Songkran festival this weekend. People who do not cooperate, whether they be local people or foreigners, would be arrested, he said.