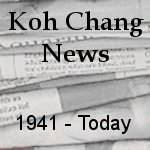 Bangkok Post 15 Sep 2013
TRAT – Flooding on parts of Koh Chang could force the closure of some tourist spots. The roads to tourist attractions on the island such as Ban Salak Kok, Ban Salad Petch and Ban Jek Bae are under 80 centimetres of water in some areas.
The flooding is the result of mountain run-off.
Koh Chang National Park head Panpong Kongdej-adisak said the Khlong Plu waterfall may be closed if the water keeps surging.
Trat is one of four eastern provinces the National Disaster Warning Centre has issued a severe weather warning for.
The centre warned people living near hillsides and waterways in Trat, Chachoengsao, Prachin Buri and Chanthaburi to brace for more heavy rain, possible flash flooding, forest runoff and mudslides on Saturday and Sunday.
Phichit Wattanasak, director of the Disaster Prevention and Mitigation Centre in Chanthaburi, said officials are on standby to send out supplies and drinking water trucks.
People affected by the severe weather can call the centre's hotline on 1784.