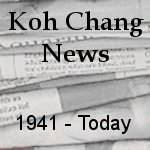 The Nation, 4 June 2013
Thailand is in the mission to match Koh Kood and Koh Chang with the Maldives.
 According to government spokesman Theerat Rattanasewee, Prime Minister Yingluck Shinawatra today updated ministers on her visit to the Maldives prior to the Cabinet meeting. She was impressed with the islands' tourism management capability, which has won great supports from the private sector. The islands have attracted over 1 million long-stay visitors per year.
She said that Koh Kood, a small island in the East of Thailand, has the potential to match the Maldives. Still, land reclamation would be necessary to pave way for the construction of an airport.
Koh Chang is another island that portrays such potential, she said.
Deputy Prime Minister Plodprasop Suraswadi was assigned to work with related agencies like the ministries of agriculture, tourism, culture, interior and transport in locating other potential islands which could be turned into paradises for long-stay travellers.
"The new destination should be able to draw long-stay visitors, or those who seek at least 2 weeks of stay. Road network should be readied for them. If it's an island, we also need boating houses. The government may allow the private sector to manage the destination and the Maldives is ready to provide technical assistance on this," Yingluck said.
If you have a long memory, you'll remember that way back in 2002, when perhaps not coincidentally, the current PM's brother was running the country, the exact same idea was floated.  And with the same guy in charge.  it's almost as though the Shinawatra clan and their close friends have a vested interest in developing Koh Chang and in particular, Koh Kood, for high end tourists. Couple of old articles:

https://iamkohchang.com/news/in-2002/lost-world-off-trat-coast.html

https://iamkohchang.com/news/in-2002/special-status-for-koh-chang.html