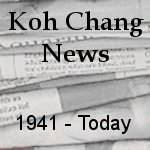 Bangkok Post, 4 Aug 2013
The leader of the People's Army Against Thaksin Regime on Sunday claimed a government "war room" to handle the planned political rally has been set up on the tourist island of Koh Chang and is under the direct command of fugitive former prime minister Thaksin Shinawatra.
Taikorn Polsuwan told reporters that the war room had been set up in a luxury resort on the island in the Koh Chang district of Trat and was commanded by "the leader of the Thaksin regime". The room had a video conferencing system which was connected to the Royal Thai Police Office (RTPO) and the Metropolitan Police Bureau (MPB).
Mr Taikorn claimed he had received a tip from a police officer who works in the MPB, adding that the room was ready to send commands directly to the RTPO, MPB and the Provincial Police Region 1.
"A policeman who is discontented with the way the Metropolitan Police Bureau chief [Khamronwit Thoopkrachang] works told me that a video conference room was specially set up right next to the MPB chief's room," Mr Taikorn said.
He had also learned from an immigration police officer in Trat province and an officer at the Department of Civil Aviation that a private plane carrying a "very important person" had landed at Trat airport and then the person was taken by a speed boat to Koh Chang amid tight security.
About 4,000 protesters had gathered at the statue of King Rama VI in front of Lumpini Park on Rama IV Road as of 3pm to join the People's Army rally, according to national police chief Adul Saengsingkaew.
"An intelligence report indicated that the protesters may spread out to rally at various places. We are monitoring them closely as to where and how," Pol Gen Adul said.
Mr Taikorn said the number of the anti-government protesters continues to increase as people from other provinces are still travelling to the rally site.
Leaders of today's rally will assess the situation and tell supporters later how to proceed with the mass protest, whether it should be prolonged, use the dao krajai (widespread) rallies or order an end to it, Mr Taikorn added.
+++
If there was a secret war room then the luxury resort mentioned but not named would likely be Aiyapura Resort, owned by close friends/associates of the former PM