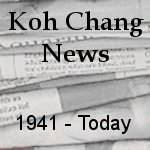 Pattaya Daily News – 21 January 2013
A report of a Russian swimmer getting into trouble while attempting to set a swim endurance record at Koh Chang island was received by commander Kamjad Samaknat, the chief of Royal Thai Navy Sea Security Center, Koh Chang island.
The report was made by navy personnel on an inflatable RIB boat of the Royal navy, who were monitoring the Russian swimmer. The Russian, Mr. Vasily Bochkarev, had accepted the "Polar Bear Challenge" to set a Thai record by swimming around Koh Chang island.
The Russian had swam nearly two thirds of the 75 km distance, and had reached Ban Salakpetch, Kohchangtai.
The navy officers observed that Mr. Vasily had swum all day and night, in quite strong wind and waves, and it was now 10 to 11 a.m. in the morning. When he reached the second channel before Bang Jek Bae, Mr. Vasily stopped to ask to change into a wetsuit, which was on the inflatable boat.
After putting on the wetsuit, Mr. Vasily continued swimming until a few minutes past noon. Then Mr. Vasily stopped for a while, and the snorkel he was wearing floated away from him. It appeared to the observers that Mr. Vasily was so exhausted, he was on the verge of drowning.
The navy personnel on the inflatable boat were monitoring him from about 15 meters away, but they pulled up close to Mr. Vasily. They asked him if he wanted to quit. They noticed with concern that his body was visibly trembling.
However, the gutsy Russian still didn't want to give up. He refused their offer to take him on board. Mr. Vasily continued swimming, and swam for a while. But he finally waved his hand for help at 12:12 p.m.
His body had run out of glucose sugar, so Mr. Vasily had no energy left to continue. The officers took Mr. Vasily on board, and saw that his mouth and hands were pale and he was trembling continually.
So they decided to take him to the land, and docked the boat at Ban Salakpetch harbor at south Koh Chang island. They gave him a blanket to give him warmth, and sent for warm water for him to drink.
+++
Why this was called a Polar Bear Challenge . . . no-one knows.  Why the guy thought he could swim 75Km  round Koh Chang non-stop, with previous experience being a much shorter  20Km swim round Koh Samet, also hasn't yet been explained anywhere.