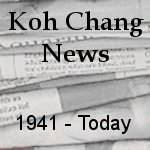 Bangkok Post 8 September 2013
TRAT – A human skull and bones were found on Koh Chang on Saturday evening.
Police discovered the remains in a forest in tambon Bang Bao in the south of the island.  A nylon rope was found at the scene, tied around a tree branch with one end of the rope made into a loop.
A bag was found nearby with a passport identifying its holder as Paul Clive Hamilton-Ritchie, 34, a British national. Police believed the man had been dead for at least seven months.
Hamilton-Ritchie had not been heard from since October, 2012. His family had set up a website seeking information about his whereabouts. Pol Lt Col Seksan Chindaphan said the details of the man match the description given in missing person report filed late last year. Police are investigating.