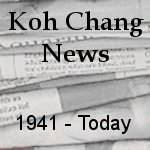 17 June 2013 (NNT)
Continuous heavy rains have forced Trat provincial authorities to temporarily close Khlong Phlu Waterfall in fear of possible forest runoffs.
The local national park unit said the waters of Khlong Phlu Waterfall in Koh Chang could reach critical levels due to days of torrential rain. Visitors are being barred from entering the site as flood warnings have been issued.
Koh Chang saw nearly 170 millimeters of rain during the past two days, raising fears of large-scale forest runoff on the island. National park officials are closely monitoring the situation around the clock.
The Meteorological Department earlier reported that a strong southwestern monsoon, which was prevailing over the Andaman Sea and the Gulf of Thailand, was set to bring more rain to the East and the South. Residents of Trat, Ranong and Phang Nga are, therefore, advised to follow weather updates for more information.