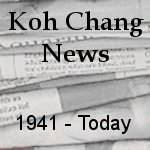 Bangkok Post 3 December 2013
Local boat operators and other local people in Koh Chang district, an island district in Trat, demand the removal of the new chief of Koh Chang National Park on Tuesday morning. They said new park chief Veera Khunchaiyarak, who took up the job just over a month ago, has caused troubles by random enforcement of laws without listening to local opinion.
The group met with Peera Iamsunthorn, chief of Koh Chang district, who agreed to raise their demands with the Trat provincial governor. Mr Veera has introduced a new fee for tourists who visit Koh Rang island, charging adult foreigners 200 each and children aged 3-14 years 100 baht each. For Thai tourists, he is charging adults 40 baht and children 20 baht.
The park chief set Dec 1 as the first day to collect the new charge, but so far the park has not yet collected any fees. Boat operators and other local people say the new fee should be announced well in advance, and the park should also provide proper facilities to accommodate tourists.
One of the local boat operators said the park chief gave only 15 days notice for the operators to enforce the charge on clients. He put the burden on operators to collect the fee. This had caused arguments with tourists. Local boat operators who normally take tourists to dive at Koh Rang areas had agreed on the price with tour businesses one or two months in advance, so it was unfair to collect an additional fee from tourists.
About 40 local operators are affected by the new charge. On Tuesday morning the park chief banned all boats that do not pay the new fees from entering Koh Rang area.
Update – a meeting was held today, 3 December, and it was agreed that tourists wouldn't be charged any fee until June 2014. ( By which time it will probably all be forgotten about.)