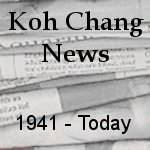 23 February Bangkok Post
Sixty-five Irrawaddy dolphins have been found dead in Trat province over the past three years and the fishing industry being blamed for many of the deaths.
Surasak Intharaprasert, a former kamnan of tambon Mairood in Khlong Yai district, said he had seen many dead Irrawaddy dolphins washed ashore.  He said their carcasses bore deep cuts believed to have been caused by fishing nets.  Between Feb 6 and 9 alone, nine Irrawaddy dolphins were found dead in the province. Since the beginning of this year, 19 carcasses have been found.  Mr Surasak said total dolphin deaths over the past three years could be between 80 and 100 if carcasses found in Koh Chang district are counted.  Around 80% of the dead dolphins are believed to have perished in encounters with fishing nets because food had been found in their stomachs. The rest likely died of illness as their stomachs were found to be empty.
Mr Surasak said fishermen in tambon Mai Rood of Khlong Yai district were working to save a dolphin whose tail was snagged in rope from fishing equipment.  Farmers and conservation groups want to set up a fishing-free zone where dolphins could swim freely.  Trat provincial fisheries chief Chaiyant Karnsomnet blamed the deaths of the Irrawaddy dolphins on fishing trawlers that have been encroaching on the coastal protection zone.