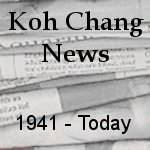 Bangkok Post 6 February 2013
Another two rare Irrawaddy dolphins were found dead on Wednesday in the sea off a beach in tambon Mai Rood in Khlong Yai district of Trat, bringing the confirmed death toll of the threatened marine mammals in the eastern province this year to 10.
The carcasses of the dolphins were spotted separately within half an hour of each other this morning, about two kilometres and four kilometres off the beach, by researchers of Trat Bay Dolphins Conservation Group, who were exploring Irrawaddy dolphins in the area.
Autopsies revealed the dolphins had been dead for about seven days, said Krittapas Srisangkajorn, president of the Marine Endangered Species Saving Network. Veterinary experts found their stomachs contained the remains of fish and crustaceans, so they had been eating, and said the cause of death appeared to be suffocation. Ten Irrawaddy dolphins have been found dead in Trat waters since early Jan 1 this year. It is believed most of them were entangled in fishing nets and drowned.
Wichit Chamnanchang, a member of the Mai Rood conservation group, has said encroachment on a conservation area in Trat Bay, which is a habitat and feeding ground of the rare dolphin, had forced the animals to swim closer to the shore. Once they were in the shallower waters the dolphins often became stranded when the tide ebbs. The Irrawaddy dolphins also risk being caught up in fishing nets that are cast near the coast, and being killed for food.
Mr Wichit said more than 300 Irrawaddy dolphins are thought to live off Trat bay.