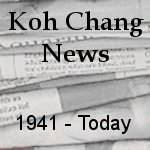 via TTR Weekly
July 11, 2012
Mu Ko Chang National Park closed three islands that are part of the Chang archipelago Island to prevent further damage to coral reefs. The Department of National Parks, Wildlife, and Plant Conservation ordered the closure of Thong Lang , Kra and Tien islands to aid coral reef rehabilitation.
Officials said there was no timeline for reopening the islands as coral bleaching damage was extensive. They blamed global warming.  The Tourism Authority of Thailand promotes diving as a niche market and hosted dive travel shows in the past. "We hope closing the islands to divers will help speed up rehabilitation," Mu Ko Chang National Park head, Pongsak Kongdejadisak explained.  "In addition, a strong current during the southwest monsoon season makes water conditions very dangerous for both swimmers and divers."
However, other islands in the national park remain open for tourism — Rang Yai; Rang Lek; Tien 2; Klang; Ma Pling 1; Ma Pling 2; Yak Yai; and Yak Lek.
Mu Ko Chang National Park is located in Chang Island district in Trat province. It is a marine national park covering 650 sq km with more than 52 islands. The most notable island in the archipelago is Chang Island.  Chang Island or Koh Chang (elephant island), is the second largest island in the country and the biggest on the eastern seaboard. The island is close to the border with Cambodia and 310 km from Bangkok.